CARACAS, July 25 (Xinhua) -- Venezuelan President Hugo Chavez threatened on Sunday to cut off oil supplies to the United States if his country was attacked by U.S.-backed Colombia in a dispute over allegations that Venezuela provides a haven for Colombian guerrillas.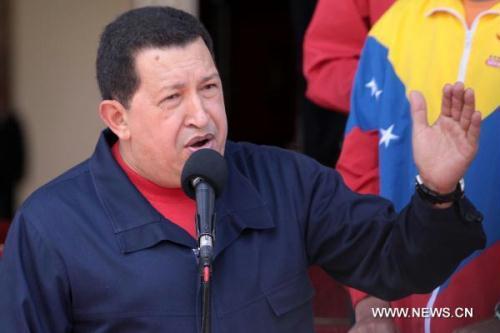 Venezuelan President Hugo Chavez speaks during meeting with Argentine soccer coach
and former player Diego Maradona (not pictured) at the Miraflores Palace in Caracas,
capital of Venezuela, July 22, 2010. Chavez on Thursday announced his country broke
off the diplomatic relations with Colombia. "For dignity we do not have other option
but to sever diplomatic ties with Colombia," Chavez said after Colombia presented to
the Organization of American States (OAS) the accusations about the alleged presence
of Colombian guerrilla chiefs in Venezuelan territory. Chavez made the announcement
when he met with Maradona at the Miraflores Palace.(Xinhua)
"If there is any armed aggression against Venezuela from Colombian territory or anywhere else supported by the Yankee empire, we would suspend shipments of oil to the United States, even if we have to eat stones here," Chavez told thousands of supporters in an outdoor speech.
"We wouldn't send another drop of oil to its refineries, not a single drop more," he added.
If actually carried out, such a threat would be a big blow for the Venezuelan economy. More than 90 percent of its export earnings are from oil. The United States is the top buyer of oil from Venezuela, which is one of the U.S. main oil suppliers.
Venezuela ruptured its diplomatic ties with Colombia on Thursday after Bogota accused Venezuela of harboring Colombian guerilla chiefs.
Chavez has accused Washington of trying to unseat him since he survived a 2002 coup and called a stronger Colombia-U.S. military relationship a threat to his country.
Chavez also suspended on Sunday his trip to Cuba in fear of an imminent Colombian military raid to his country aided by the U.S. forces. He had been invited by the Cuban leader Raul Castro to attend Monday's celebration of the 57th Anniversary of Moncada Quarter Assault.
The Obama administration voiced Friday its concerns over Venezuela's link with Colombia's anti-government guerrillas and called for an international investigation into the diplomatic crisis.
U.S. State Department spokesman Philip Crowley said it was a "petulant" response by Venezuela to cut off relations with Colombia.
Analysts say Chavez's response to Bogota's allegations could be a tactic to rally supporters and distract from domestic issues such as high inflation and crime ahead of parliamentary elections in September.
Related stories