SALZBURG, Austria, July 26 (Xinhua) -- Austrian President Heinz Fischer and Chancellor Werner Faymann on Monday met respectively with visiting Chinese Foreign Minister Yang Jiechi in Salzburg in the northern part of the country.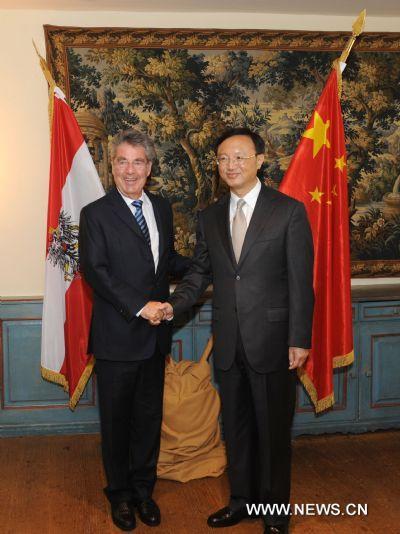 Austrian President Heinz Fischer (L) shakes hands with visiting
Chinese Foreign Minister Yang Jiechi in Salzburg, Austria, on
July 26, 2010.(Xinhua/Xu Liang)
Fischer recalled with pleasure his January visit to China, and asked Yang to convey his greetings to Chinese President Hu Jintao.
In the 40 years since Austria and China established diplomatic ties, bilateral relations have witnessed continuous development, with frequent exchange of high-level visits, fruitful outcome in trade and other areas, as well as close consultations on international affairs, said Fischer during the meeting.
He added that Austria would like to further strengthen its friendly relations with China.
Yang conveyed President Hu's greetings to Fischer. He said leaders of the two countries had reached a series of important consensus on Sino-Austrian relations since President Fischer's successful visit to China.
The minister also noted the two countries had maintained momentum in the exchange of high-level visits and achieved new progress in bilateral cooperation in such areas as infrastructure construction, new energy, environmental protection, aviation and tourism.
While meeting with Chancellor Faymann, Yang pointed out that a good relationship between China and Austria is in the interest of both sides and also conducive to the development of China-Europe relations.
China and Austria should make joint efforts to strengthen dialogue, deepen mutual trust, and enhance coordination on major international issues, said Yang.
Faymann recalled his visit two months ago to Shanghai for the Austria National Pavilion Day at the World Expo, and said China's development had deeply impressed him.
He hoped he would have the opportunity to pay an official visit to China to help deepen mutual understanding and promote the further development of bilateral relations.
Related stories