The first man ever to have a full face transplant appeared in public yesterday.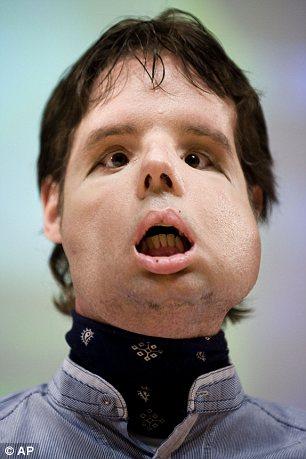 Oscar, 31, underwent a full-face transplant in
March. He appeared in public today for the first
time at a news conference at the Vall d'Hebron
Hospital in Barcelona, Spain
As he returned home from hospital four months after his ground-breaking surgery, the 31-year-old bravely showed his new face to photographers.
The Spanish farmer, known only as Oscar, had been horribly disfigured five years ago in a shooting accident.
This prevented him breathing normally and made it difficult to swallow or speak.
But after two years of planning, a team of 30 doctors started work on him in March, in an operation which was to last 24 hours.
The transplant, at a Barcelona hospital, included complete facial skin and muscles, eyelids, nose, lips, upper jaw, all his teeth, the palate, cheekbones and lower jaw.
Photographs of the patient before his surgery revealed the extent of his facial injuries from the accident. He was left with no nose and no upper lip and his lower jaw was shattered.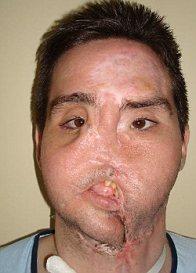 Before the operation: Oscar lost
his nose in a hunting accident
Just a few days after the operation, Oscar was able to admire his new face in the mirror. He was able to begin shaving shortly afterwards.
Movement is also returning. He can now move his eyebrows, upper eyelids, jaw and external cheek muscles.
Previous face transplants carried in France, Spain, the U.S. and China were only partial.