BEIJING, July 27 (Xinhuanet) -- Summer is road trip time, and for our most recent excursion we packed up the car, set out at daybreak, and headed into Inner Mongolia. We passed the border of Hebei Province and drove north to the Xinlin Gol League, and the landscape stretched out before us, shifting from the concrete jungle to rural bungalows and on to the seemingly endless green grassland. As we traveled, the sky became clear and blue, with low clouds scattered like fluffy marshmallows. Herds of sheep, bulls and horses came into our view once in a while, eating grass with ease. The wind became cool and refreshing as we escaped the sauna of Beijing.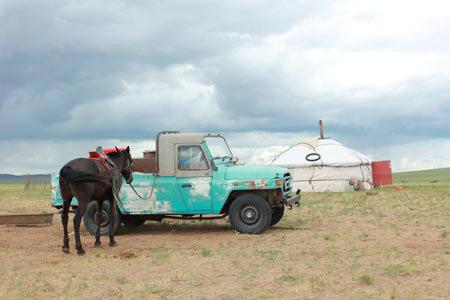 Summer is road trip time, and for our most recent excursion we packed up the
car, set out at daybreak.
By lucky chance, we timed our trip so we were near the Pingding Mountains at sundown. The mountain range was formed by a volcano, and each mountain has a perfectly flat top. Behind them, the sun looked like an orange egg yolk in the pink and purple sky.
After the brief but stunning sunset, we got caught in some sudden rain on a road that was in the process of being repaired. Our car bucked between the slushy mud and bumps in the road. After the more-than-10-hours drive, it was almost midnight when we got to Dongwuqi, which is to the northeast of Xilin Gol League. Our stomachs were rumbling with hunger, and luckily our Mongolian hosts were waiting for us in a local herdsman's yurt. There were three long benches as the serving tables, and each had a basin of lamb chunks. That's the famous Mongolian "meat in hand," where you use one hand to hold the meat, and the other to chop and eat. The lamb is simply boiled in water, with no seasoning except some salt. Surprisingly, the mutton did not have a strong mutton odor. There's also spicy sauce you can dip it in. "The mutton from Dongwuqi is well-known. You can look it up," said a local Mongolian girl proudly. "I've been to Beijing. The mutton there is not good at all! And they claim it's from Dongwuqi!" Indeed, even those of us who don't normally eat mutton gobbled down quite a few chunks of meat.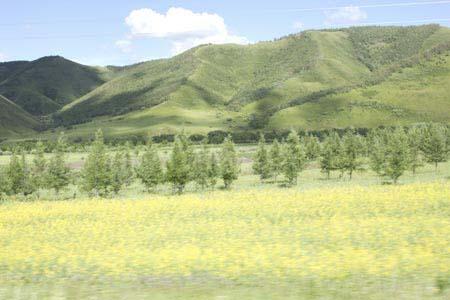 (Photo: Global Times)
The host poured hot and fresh milk tea from an old-fashioned bottle into our bowls and filled our cups with Caoyuan Bai (Grassland White), a well-known Mongolian baijiu. "We call it 'smother the donkey,'" Su He, our local friend, joked. "The traditional Caoyuan Bai is 62 degrees, but this is a modified version, only 38 degrees." Then he taught us the Mongolian way to drink your first cup: Dip your right forefinger into the wine, toast to the sky, toast to the earth, and onto your forehead, then drink the whole glass. Mongolians drink like fishes; after a couple of glasses, even the best drinker among us got tipsy.
Related stories