ZHENGZHOU, July 28 (Xinhua) -- The death toll from a bridge collapse last Saturday in central China's Henan Province have risen to 37 with 29 still missing, rescue headquarters said at Tuesday midnight.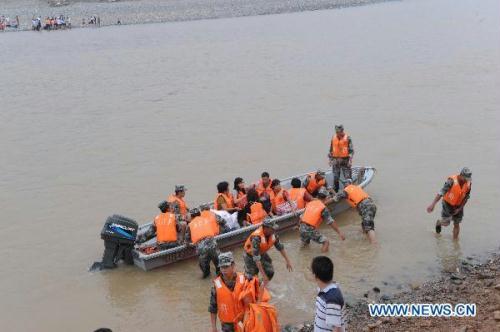 Armed policemen ferry local residents with a speed boat at the lower reaches of c
ollapsed Yihe River Bridge in Luanchuan County, central China's Henan Province, July 27,
2010. The Yi River Bridge collapsed at about 5 p.m. Saturday in Luanchuan County, plunging
42 people on it into the rushing waters. (Xinhua/Zhao Peng)
Among the killed people were three tourists. The headquarters counted retrieved bodies and asked family by family about missing people to get the numbers, which may rise as witnesses say they saw about 100 people on the bridge when it collapsed.
China Central Television (CCTV) reported Tuesday night that at least 50 people died in the collapse without giving the source.
The Yi River Bridge collapsed at about 5 p.m. Saturday in Luanchuan County, Luoyang City, plunging the people on it into the rushing waters, a local government spokesman said.
Thousands of rescuers are still searching for missing people and possible survivors.
Villagers from seven villages and soldiers have launched a massive search for survivors, said Li Guangming, deputy head of the administrative office of Luanchuan county government.
The rescuers are focusing on spots that could hold people who were rushed away by torrents, such as banks with lush plants, said Qi Weiming, deputy head of Luanchuan's military office.
News broke of the accident after Luanchuan's government wrote an apology which was published in Monday's Luoyang Daily, saying "we are deeply sorry for the heavy loss of life ... and we take responsibility."
"The bridge was crowded with people who had come to watch flood torrents when it collapsed. They were villagers and tourists from a nearby nursing home," said survivor Li Xianghong in an interview with local media Dahe Daily.
"More than 10 people fell with me, including my nephew, at the southern end of the bridge which collapsed first. For a moment, the river was full of struggling people."
Li was caught by a tree branch and rescued by other villagers.