BUENOS AIRES - Diego Maradona's spell as Argentina coach came to an end on Tuesday when soccer chiefs voted unanimously not to renew his contract, the country's AFA football association said on Tuesday.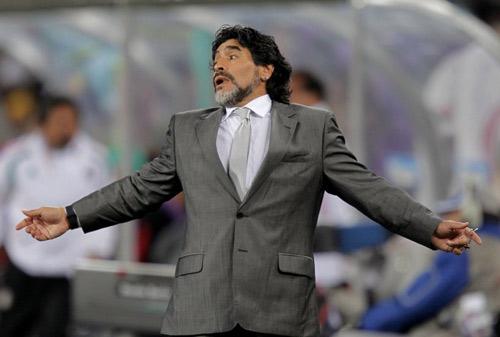 Argentina's coach Diego Maradona reacts during their 2010 World Cup second round
soccer match against Mexico at Soccer City stadium in Johannesburg in this June 27,
2010 file photo. Maradona has been sacked as Argentina coach following a unanimous
vote by the country's Football Association (AFA) board not to renew his contract,
an AFA spokesman said on July 27, 2010. Picture taken June 27, 2010.[Photo/Agencies]
Maradona's future had been in doubt since Argentina's 4-0 loss to Germany in the World Cup quarter-finals in South Africa earlier this month.
"The executive committee... has resolved unanimously not to renew the contract of Diego Armando Maradona as coach of the national team," an AFA spokesman told a news conference after the meeting of soccer bosses.
Rumours had swirled ahead of the announcement that Maradona would not continue as Argentina's coach, a position he has held since November 2008, because of a disagreement with the AFA.
Maradona told local media on Sunday he wanted to stay on as coach but only if he could keep control over the choice of his assistants. [ID:nN26172999]
His departure means Argentina need to find a new coach for the Copa America regional tournament next year.
Local media said former Boca Juniors coach Carlos Bianchi, who led the team to a string of national and continental titles in two stints between 1998 and 2004, was a popular favourite to replace Maradona.
Other names circulating as possible successors include Estudiantes coach Alex Sabella, Independiente's former coach Americo Gallego, former Argentina coach Marcelo Bielsa and ex-River Plate, Inter Milan and Argentina striker Ramon Diaz.
Related stories