MOSCOW, July 27 (Xinhua) -- Two Russian astronauts have successfully completed a space walk that last six and a half hours on Tuesday and returned to the International Space Station (ISS), said the mission control center outside Moscow.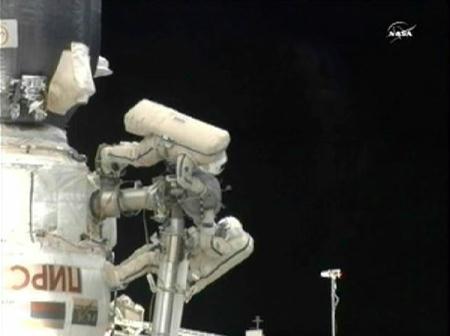 Russian spacewalkers Fyodor Yurchikhin and Mikhail Kornienko, who have
identical markings on their spacesuits, get into position to jettison a
video camera from the International Space Station in this image from
NASA TV July 27, 2010. The spacewalkers will work to outfit the Russian
Rassvet module's Kurs automated rendezvous system, install cables, and
remove and replace a video camera during their extravehicular
excursion.(Xinhua/Reuters Photo)
This is the second space walk of Russian astronauts this year. According to the mission control center, Fyodor Yurchikhin and Mikhail Kornienko opened the hatch gate of the Pirs docking module at 08:11 a.m. Moscow time (0411 GMT), and started the second space walk this year wearing new Russian Orlan-MK spacesuits that were unveiled last summer.
They have replaced a camera for docking system at the exterior of the Zvezda service module, which will be primarily used to monitor the docking process between Automatic Transfer Vehicles sent by the European Space Agency and the Russian section of the space station. The old camera was released into space and will burn when entering the aerosphere.
They also have paved and put through cables between small scientific research module Rassvet, Zvezda module and Zarya functional module. The setting of the cables has thus marked the formal initiation of the Rassvet module as part of the ISS.
Rassvet small scientific research module, or MIM-1, was delivered to the ISS by a U.S. space shuttle in May. The 7.9-ton module is designed to conduct a series of scientific experiments, especially those of biotechnology and material science. It can also be used to deposit experiment equipment.
It was the debut space walk for Kornienko. Yurchikhin, who stayed at the space station in 2002 and 2007 onboard a U.S. space shuttle and a Russian manned spacecraft respectively, has conducted three space walks so far.
Orlan-MK spacesuit, the fifth generation spacesuit developed by Russia for activities outside the ISS, was the first of its kind controlled by microcomputers. So far the spacesuits worked normally.
Related stories