NANJING, July 28 (Xinhua) -- A powerful explosion at a factory in eastern China's Jiangsu Province Wednesday killed at least six people and injured many more, witnesses and hospital sources said.
Xinhua reporters saw at least six people recorded as dead at hospitals treating people injured in the blast that ripped through an abandoned plastics and chemical factory in northern Nanjing, capital of Jiangsu.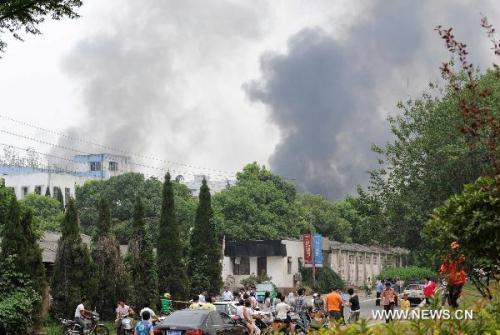 Smokes are seen near a factory in Nanjing, capital of east China's Jiangsu Province,
July 28, 2010. A powerful explosion hit a factory in northern Nanjing Wednesday,
killing a yet-unknown number of people and injuring many more, witnesses and
hospital sources said.(Xinhua/Yang Lei)
An initial investigation showed gas leak from a pipeline going through the plant at Mufu East Road of Qixia District triggered the blast at about 10:10 a.m..
Buildings and vehicles within a 100-meter radius around the factory were seriously damaged.
The explosion hit a bus that was passing the area, injuring many passengers.
The area has been cordoned off.
Media reports said a man was hit by a falling ceiling when he was sleeping at home. He died later in hospital.