Hundreds of performers from Guangdong, one of China's most prosperous provinces, are presenting a raft of shows ranging from lion dances to Cantonese Opera in celebration of the ongoing Guangdong Week kicking off yesterday.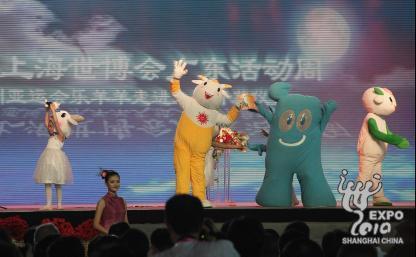 Performance at the opening ceremony of the Guangdong Week.
The week features large-scale folk singing and dancing shows, acrobatics, lion dances, Cantonese Opera, Chao Opera, fashion shows, folk arts and other cultural elements.
Guangdong hopes to showcase its splendid Hakka culture and the upcoming Guangzhou Asian Games in November via Expo, Guangdong governor Huang Huahua said at yesterday's opening ceremony of the culture week at the Baosteel Stage inside the Expo site.
Shanghai Mayor Han Zheng said Guangdong's displays at the Expo have won the appreciation of many visitors because of their unique and creative designs and the culture week of Guangdong would further promote the cooperation and exchange between Shanghai and Guangzhou.
Wan Jifei, chairman of China Council for the Promotion of International Trade, said the Guangdong Pavilion focusing on green lifestyle showcases people's relentless pursuit towards a better future and it is one of the most splendid, vigorous and creative pavilions.
He was convinced that the Expo and the Asian Games would boost Guangdong's economic, scientific and technological as well as cultural development.
Zhang Guangyu, Party secretary of Guangzhou, invited visitors to the Guangzhou Asian Games. Students from Guangzhou and Shanghai exchanged mascots of Expo 2010 Haibao and Guangzhou Asian Games Le Yangyang at the ceremony. A total of 10,000 tickets for the Asian Games and the Asian Para-Games were also presented to Shanghai.
The Guangdong pavilion inside the China Joint Provincial Pavilion is shaped in the style of a Qilou building. As a stylishly classic fusion of Eastern and Western architecture, Qilou, or Chinese arcade houses, serve as a cultural landmark in the coastal cities of south China.
It is also inspired by paper-cutting craft. The three sections of Green Life, Green Cities and Green Myths interpret the pursuit of green life through high-tech means and dreams.
Officials present at the ceremony also visited the Life and Sunshine Pavilion, the first pavilion especially designed for disadvantaged people during World Expo's 159-year history.
A statue of Fenfen, the mascot of the Asian Para-Games in Guangzhou, was unveiled at the pavilion yesterday.