BEIDAIHE, Hebei, July 29 (Xinhua) -- Chinese Vice President Xi Jinping on Thursday said more efforts should be put into a program for recruiting global experts, which was initiated in 2008.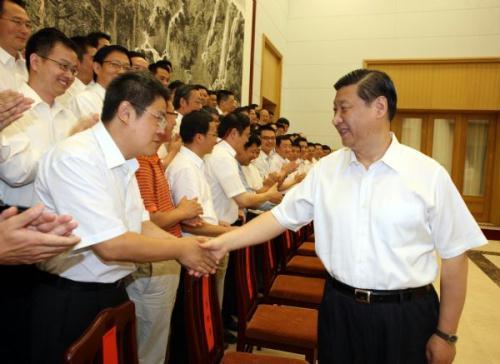 Chinese Vice President Xi Jinping (R) meets with specialists at the seaside resort
of Beidaihe in north China's Hebei Province July 29, 2010. The specialists are
representatives of a Chinese recruitment program of global experts.(Xinhua/Yao Dawei)
The experts should be respected and supported, and should be given a free hand in their work, Xi said. He urged leading Party and government officials across the country to provide decent work and living conditions for the experts.
Overseas top-notch professionals were indispensable for China's drive of opening up and reform, he said.
The recruitment of the experts was an inevitable part of scientific and technological development, expansion of the country's talent pool and improved capacity of independent innovation, he added.
Xi made the remarks when visiting 70 specialists recruited under the program, who were invited by the Central Committee of the Communist Party of China (CPC) and State Council to the northern seaside resort Beidaihe to holiday.
By May this year, 662 people had been recruited under the program, which gives priority to leading scientists who are able to make breakthroughs in key technologies, develop high-tech industries and lead new research projects.
Xi hailed the achievements of the program, saying it boosted the emerging industries, improved scientific research and promoted retention of talent.
According to the National Medium and Long-term Talent Development Plan (2010-2020) unveiled in June, the government will work out favorable policies in terms of taxation, insurance, housing, children and spouse settlement, career development, research projects, and government awards for high-calibre overseas experts who are willing to work in China.
Editor:Jin Lin |Source: Xinhua