Related Video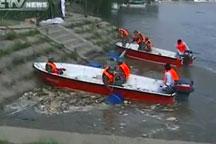 Local govt takes action
CHANGCHUN - Workers on Thursday raced to retrieve some 3,000 chemical-filled barrels swept by floods into the Songhua River in Northeast China's Jilin province.
Each barrel contained 170 kilograms of chemicals, officials said at a press conference on Thursday. Another 4,000 empty barrels also reportedly surfaced on the Songhua River.
But no chemicals had been detected in the river water, Ministry of Environmental Protection spokesman Tao Detian said on Thursday.
Local authorities said the pH in the river remained within normal levels, and that other routine monitors indicated no major changes.
By Thursday evening, more than 1,500 barrels had been recovered, and Jilin authorities said they had managed to retrieve all the barrels before they entered neighboring Heilongjiang province along the 1,900-km long Songhua River.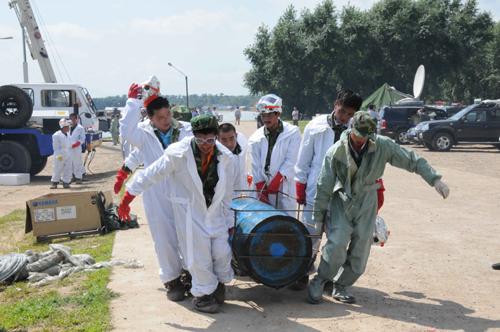 Workers carry barrels of explosive chemicals to safety on Thursday in Yushu city,
Jilin province. Some 7,000 barrels, including 3,000 containing chemicals, surfaced
on the Songhua River after having been swept away in a recent flood.[Agencies]
The National Meteorological Center said on Thursday that heavy rain would continue to pound central Jilin and southern Heilongjiang province, likely resulting in more floods, which might add difficulties to the recovery process.
Local police have banned individuals from retrieving, storing or opening these fallen barrels. So far, the recovered barrels have been properly placed in a branch factory of Jilin Petrochemical Company.
About 7,000 barrels tumbled into the Wende River on Wednesday and then floated into the Songhua River after floods broke storage facilities of two chemical factories - Jilin Xinyaqiang Biochem Co Ltd and Jilin Zhongxin Group - in Yongji county of Jilin city.
Thirteen people were confirmed dead and six were missing after floods swept through Yongji, officials said on Thursday.
Of the 3,000 chemical-filled barrels, about 2,500 barrels contained trimethyl chloro silicane - a colorless, flammable liquid - while 500 contained hexamethyl disilazane, a colorless liquid, officials said. Both chemicals had a pungent odor.
Once mixed with water, the two chemicals will transform to hydrochloric acid, ammonia and two other nontoxic chemicals.
The Songhua River is the major source of drinking water for some 4.3 million people along it, local officials said on Thursday.
Local environmental protection authorities, meanwhile, have set up seven monitoring sections along the river and are closely monitoring the water quality.
Related stories