NEW DELHI, July 30 (Xinhua)-- British Prime Minister David Cameron Thursday wound up his two-day visit to India after holding talks with his Indian counterpart Manmohan Singh.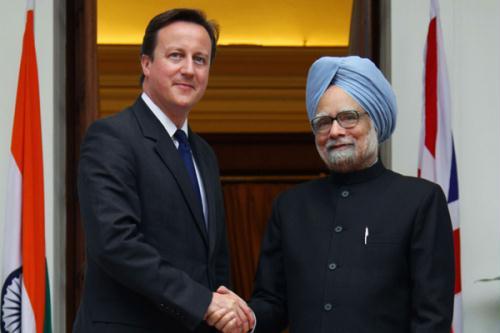 British Prime Minister David Cameron (L) shakes hands with his Indian counterpart
Manmohan Singh before their meeting in New Delhi July 29, 2010. (Xinhua/Reuters Photo)
He also attended Thursday an important British-Indian business forum with the top entrepreneurs of both countries here and attended the signing ceremony of a 1.1 billion-U.S. dollar project to jointly make 57 "Hawk" trainers for the Indian military in the southern city of Bangalore Wednesday.
This visit was Cameron's first to a major developing country since assuming office and the first visit by a British PM to India since 2005. He was accompanied by seven cabinet ministers and 50 British entrepreneurs as well as many people from the circles of education, culture and arts.
Regarded as the largest ever delegation to India since India's Independence in 1947, the visit also showed the great importance paid by London to India.
On the eve of his visit, Cameron published an article on British-Indian relations in the Indian daily The Hindu, in which he called for "a stronger, wider and deeper relationship" between the two countries, while emphasizing huge potentials in cooperative fields such as economy, trade and security.
As per the agreement struck between New Delhi and London during Cameron's visit, one can see that economic and trade cooperation remain the focus bilateral relations. But the new characteristics of British-Indian relations can also be summarized as following:
BRITAIN WISHES TO "RETURN" TO INDIA IN ECONOMIC FIELD
Despite the fact that Britain was the former colonial power in India, its influence in the international arena has fallen greatly since World War II and its political and economic influence in India itself has also greatly diminished over the past several decades.
Before he landed in India Tuesday evening, Cameron said he came here "in a spirit of humility". He said sentiment and "a shared history" can no longer build a new special relationship between the two countries and Britain must win its position in India though fierce international competition.
The prime minister also pointed out that the aim of Britain is to again become one of the top five trading partners of India. Last year, British-Indian trade fell to 4.5 billion U.S. dollars, and Britain became India's 18th largest trading partner.
The recent change of government in Britain was mainly caused by economic recession resulting from the global economic meltdown. After he came to power, Cameron carried out the largest deficit cut and economic austerity plan since Prime Minister Thatcher.
London has realized that if Britain wants to recover from the economic slowdown, it must seek wider market overseas, especially in Asian countries. The Foreign Office has also launched a campaign of economic diplomacy. Under this circumstances,
Cameron thus chose India as the first developing country to visit. The two governments agreed to carry out a wide-range of cooperation in all fields, increase investment in each other's country, and set up a CEO joint team to stimulate such endeavors.