CHANGCHUN, July 30 (Xinhua) -- Civilians were mobilized Friday to join exhausted soldiers and emergency workers struggling against mounting difficulties to retrieve thousands of chemical-filled barrels that were swept into a major northeast China river by flood waters two days ago.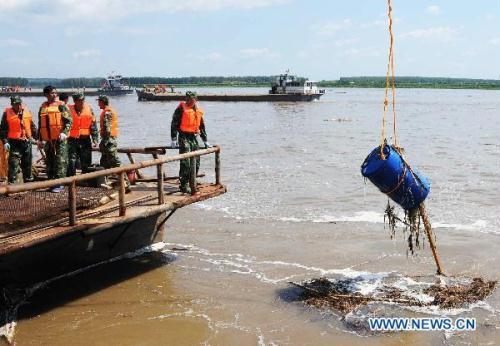 Workers retrieve a chemical container from the Songhua River at the Wukeshu Dock in
Yushu City, northeast China's Jilin Province, July 29, 2010.(Xinhua/Zhou Changqing)
Salvage workers fear some of the barrels, many filled with 170 kilograms of flammable liquid, may have sunk to the bottom of the Songhua River, raising serious risks of lingering water contamination.
Chemical barrels were also spotted lying unattended in the debris of flood-devastated villages.
Some 3,000 full barrels and 4,000 empty ones were swept into the Wende River and on to the Songhua River after floods hit warehouses of two chemical factories in Jilin City, Jilin Province, early Wednesday.
By noon Friday, 2,978 barrels had been recovered, but workers say floating debris, such as trash, weeds and tree branches, have hampered the work.
On Friday, the local government encouraged the public to join in the operation, announcing a bounty of 100 yuan for each full barrel and 50 yuan for each empty one that local people brought in.
It was not clear whether professional handling was needed for the chemicals, but a local official said many riverside residents "had experience in salvage."
Soldiers and emergency workers stationed at eight points on the waterways in Jilin Province have worked around the clock since late Wednesday to collect the barrels before the torrents carry them further down the Songhua River into neighboring Heilongjiang Province.
At one point, where boats were chained together across the river, engineers used four cranes to remove debris before soldiers and experts on boats used long poles and steel nets to retrieve the barrels.
Related stories