CHANGCHUN, July 31 (Xinhua) - At least 47 people have been killed and 45 others remain missing in floods that have hit northeast China's Jilin Province since July 24, Jilin's civil affairs department said Saturday.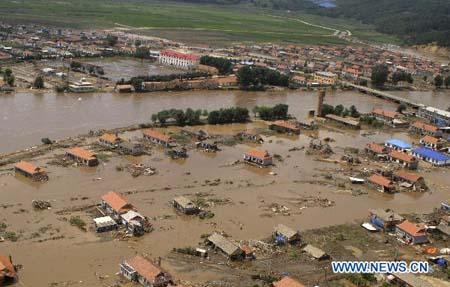 The aerial photo taken on July 30, 2010 shows the flood-battered area in Antu
County of Yanbian Korean Autonomous Prefecture, northeast China's Jilin Province.
(Xinhua/Jiang Hechun)
In addition, about 375,000 people have been evacuated and 25,800 buildings collapsed due to the floods, with economic loss on account of flooding reaching nearly 4 billion yuan (590 million U.S. dollars), the department said in a statement.
More heavy rains are expected from Aug. 3 to 4, according to local weather forecast.
Editor:Yang Jie |Source: Xinhua