CHANGCHUN, Aug. 1 (Xinhua) -- Workers have recovered 6,387 chemical barrels and located 684 others stuck on flood-ravaged land along a major river in northeast China by Sunday night, four days after floods swept them into the waterway, local officials said.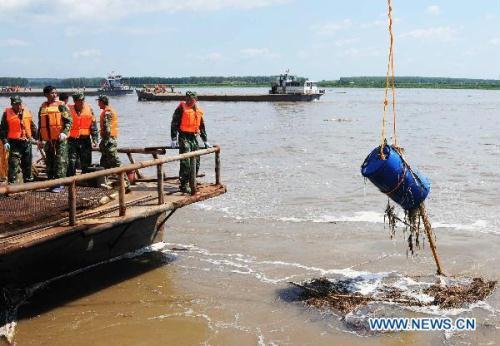 Workers retrieve a chemical container from the Songhua River at the Wukeshu Dock
in Yushu City, northeast China's Jilin Province, July 29, 2010.
(Xinhua/Zhou Changqing)
The barrels were retrieved within the borders of Jilin Province and water quality tests show that the Songhua River, a major drinking source for millions in the region, has not been contaminated, said officials with the Jilin provincial government.
A total of 3,662 barrels filled with colorless and highly explosive chemicals -- mainly trimethyl chloro silicane and hexamethyl disilazane -- and 3,476 empty barrels were swept into the Wende River, a tributary of Songhua, after floods destroyed two chemical plant warehouses in Jilin City, Jilin Province on Wednesday.
Torrents carried the barrels into the Songhua River, raising fears of water contamination.
However, the barrels were intercepted after more than 12,000 soldiers,armed police, emergency workers and local residents in Jilin fanned out along the Songhua River's 235 kilometer waterways to collect the barrels,working around the clock, officials said.
A soldier, Guan Xizhi, was swept away by flood waters while retrieving barrels Friday near Hadashan Dam, Songyuan City and his body was recovered Saturday, military authorities said Sunday.
Related stories