BRASILIA, July 31 (Xinhua) -- The UNESCO's World Heritage Committee decided on Saturday, at its 34th meeting in Brasilia, to add the historic monuments of Dengfeng in central China's Henan province to the World Cultural Heritage List.
Tong Mingkang, deputy chief of China's State Administration of Cultural Heritage, said China would protect its World Heritage sites effectively under the World Heritage Convention so as to make them better benefit the Chinese people.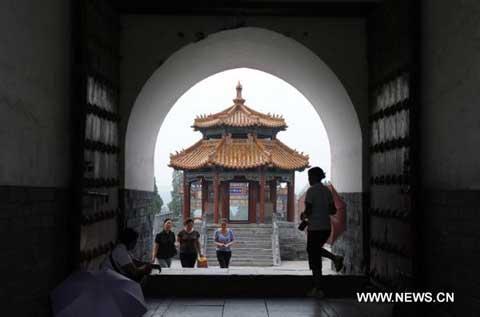 Photo taken on July 30, 2010 shows a pavilion at the Zhongyue Temple in central
China's Henan Province. The World Heritage Committee decided on July 31,2010,
during its 34th meeting taking place in Brasilia, to include the Chinese Historic
Monuments of Dengfeng in the World Heritage List. (Xinhua/Zhu Xiang)
The 1972 Convention, with 187 signatories, encourages international cooperation to safeguard the common heritage of humanity.
The historic monuments of Dengfeng in "The Center of Heaven and Earth," which include the ancient architectural complex at Mount Songshan and the site of the Xia-dynasty capital, are situated in and around Mount Songshan in Henan.
The complex consists of 13 ancient structures and sites, such as Shaolin Temple, Songyang Academy, Taishi, Shaoshi and Qimu Towers and the pagoda of the Songyue Temple.
The West Lake in China's eastern Hangzhou city is ready to bid for the UNESCO's World Cultural Heritage next year, said Tong.
The World Heritage Committee is assessing the inscription of China's mountainous southeastern Danxia beauty spot on its World Natural Heritage List.
This year, a total of 32 new properties have been seeking recognition of the World Heritage List: six natural, 24 cultural and two mixed (both natural and cultural at the same time).
The World Heritage List identifies 890 sites of "outstanding universal value," located in 148 states parties to the World Heritage Convention. With the newly-included monuments in Dengfeng, China now has 39 properties inscribed on the list.
Editor:Liu Fang |Source: Xinhua