An Emirates Airline Airbus A380 yesterday became the first superjumbo to arrive in China on a scheduled service when it landed in bright sunshine at Beijing Capital International Airport.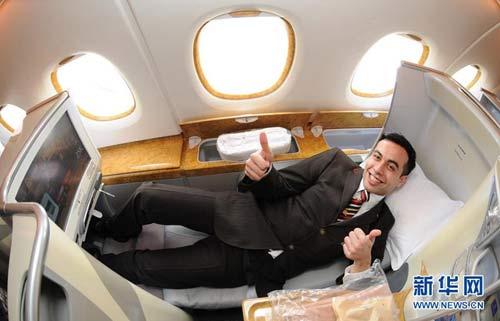 A steward gestures as he shows the interior design in business class of the Emirates
Airlines' A380 passenger plane which arrives at the Capital International Airport in
Beijing August 1, 2010.(Xinhua/Wang Jianhua)
Its arrival heralds further strengthening of aviation ties between the UAE and the world's most populous nation.
An A380 will now fly one of Emirates's two daily services between Dubai and Beijing. It joins the route seven years after Emirates became the first airline to launch a non-stop service between the Middle East and the Chinese mainland.
The Emirates A380, configured for up to 517 passengers, is scheduled to depart from Dubai each day at 4.10am local time and land in Beijing about 11 hours later.
As well as its two daily services from Dubai to Beijing, Emirates has twice-daily services to Shanghai and Hong Kong, as well as a daily service to Guangzhou. The airline has 11 A380s in service, flying to London, Paris, Toronto, Seoul, Bangkok, Jeddah, Sydney and Auckland, as well as Beijing.