MOSCOW, Aug. 2 (Xinhua) -- Many paratroopers in Russia splashed in fountains to celebrate their special day on Monday, the 80th anniversary of the establishment of Russia's airborne forces.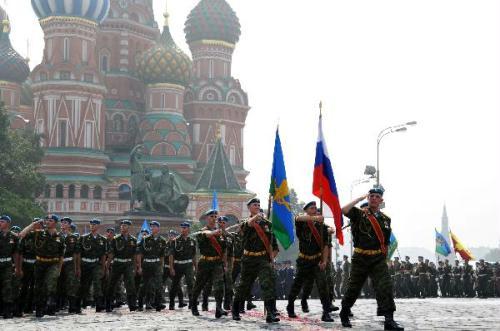 Russian paratroopers march during a parade ceremony to mark the 80th anniversary of
the creation of Russian Paratroopers' Forces, on the Red Square in Moscow, Russia,
Aug. 2, 2010. (Xinhua/Liu Kai)
Nearly 600 former commandos in blue berets gathered in Moscow's Gorky Park, a traditional venue for paratrooper celebrations.
At the Monument to Paratroopers at the Central Museum of the Airborne Troops, flowers were offered, and a parade was staged in the Red Square. Many car drivers in the capital waved the forces' blue flags.
Russian President Dmitry Medvedev sent a congratulatory message to the "Blue Berets," saying "the history of the Airborne Troops is a legend of valor and steadfastness of officers and soldiers of the airborne infantry."
"It is important that nowadays the paratroopers master promising vocations and handle new modern military hardware and weapons. Much is being done to raise the prestige of the service in the Airborne Troops," he said.
Boris Gryzlov, chairman of the State Duma, the lower house of parliament, said the paratroopers were the elite of Russia's armed forces.
Over 100 paratroopers from Ulyanovsk and 30 paratroopers from Pskov, in addition to delegations from foreign countries including Belarus, Ukraine, Israel and Germany, took part in the celebrations in Moscow.
The airborne forces used to be part of the Air Forces and had been a separate branch since 1991.
In Ryazan, a city 200 km southeast of Moscow that hosted a training school for the paratroopers, the city hall canceled the celebrations due to heavy smoke from wildfires blanketing the city. Instead, over 500 paratroopers were sent to fight the fires.