TARANTO, Italy, Aug. 2 (Xinhua) -- Chinese Ambassador to Italy Ding Wei and some 200 Chinese nationals welcomed on Monday the arrival of two Chinese warships at the southern naval base in Taranto.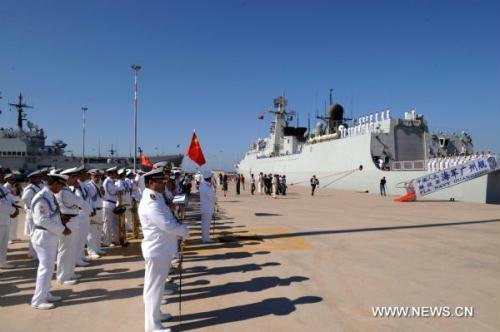 Two Chinese naval warships destroyer Guangzhou and frigate Chaohu, which are part of
the fifth Chinese naval escort flotilla, arrive at Taranto for a visit to Italy, Aug.
2, 2010. (Xinhua/Liu Chunhui)
Enthusiastic Chinese people, coming from all over Italy, greeted the navy soldiers with cheers, waving in the air red Chinese flags. Some lucky ones even had the opportunity to board one of the ships for a tour.
The vessels, destroyer Guangzhou and frigate Chaohu led by Rear Admiral Zhang Wendan, are part of the fifth Chinese naval escort flotilla, which just completed patrolling the Gulf of Aden and Somali waters to protect commercial ships from pirate attacks.
The Chinese ambassador said the visit was "set to further improve military exchanges and cooperation between Chinese and Italian navies."
Ding said he looked forward to increasing cooperation between the two countries in all sectors.
The flotilla had decided to dock in three countries: Egypt, Italy and Greece, which proved the importance of the Italian naval base.
Talking about the good impression he had of Taranto upon his arrival, Commander Zhang highlighted the friendship between Italy and China and the various cultural and historical links existing between the two countries.
Zhang, who is also deputy chief of staff of the Chinese Navy's South Sea Fleet, expressed his wish that the Chinese and Italian navies further cooperate in the near future.
The Chinese warships together with two Italian frigates will perform joint war games in the Gulf of Taranto on Friday.
Taranto's navy commodore Giovanni Gumiero, who greeted the visiting flotilla as representative of the Italian armed forces, said: "Many other activities are planned for the five-day visit, including sport activities and site-seeing tours for the Chinese navy men."
Related stories