WASHINGTON, Aug. 3 (Xinhua) -- A shooting at a beer distribution business in the U.S. state of Connecticut has left at least 9 people dead, local media reported on Tuesday.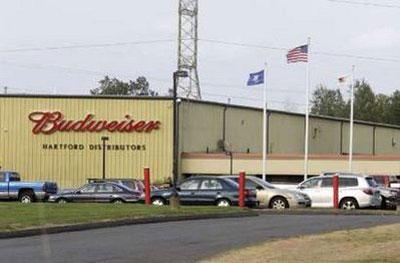 A view of the Hartford Distributors building where nine people
were killed in a shooting rampage in Manchester, Connecticut
August 3, 2010. REUTERS/Michelle McLoughlin
The shooting took place on Tuesday morning. Omar Thornton, 34, a driver for the Hartford Distributors Inc., which is a family-run craft beer distributor in Manchester, Connecticut, opened fire at co-workers. He was reported to be using a 0.223 caliber semiautomatic rifle.
The shooting left at least 9 people dead, according to local reports. The death toll kept changing all the morning, as more people died in hospital, and more injured were found at the scene.
Local newspaper Journal Inquirer said Thornton had been asked to resign. He had worked at the distributor for a couple of years and was called in for a disciplinary hearing. Reports quoted John Hollis of the Connecticut Teamsters, which represents the company employees, as saying.
After 7 o'clock on Tuesday morning, Thornton opened fire and shot several people outside the company's building and then moved inside.
By the time Thornton moved his way inside the building, emergency responders rushed to the company grounds, and they described there were people lying outside the building. But with a shooter active, they were unable to reach those who were shot immediately. Police said people in the offices were hiding under desks.
As police tried to clear areas inside the building, a fire was reported inside the building with heavy smoke. It was extinguished about one hour later.
At one point Thornton was reported to be talking to state police, but he eventually shot himself as police approached.
Police said all those shot were employees. Company executive Brett Hollander said the company is "just trying to figure out who 's shot, who's not accounted for." He said 50 to 70 people were inside. Hollander, whose family owns the distributor, said he did not know the shooter well.
Victims were taken to Hartford Hospital by ambulance. Life Star helicopter was standing by, but officials decided ambulances would be faster.
Police from Manchester and nearby towns flooded the area, as reports of an active shooter went out over the police radio.
Related stories