By Zou Le and Huang Jingjing
The strobe lights and disco beats were turned off before police officers proceeded to question a group of escort girls inside a high-end club in Kunming, Yunnan Province, on Thursday. But a loud and boisterous middle-aged man ran forward.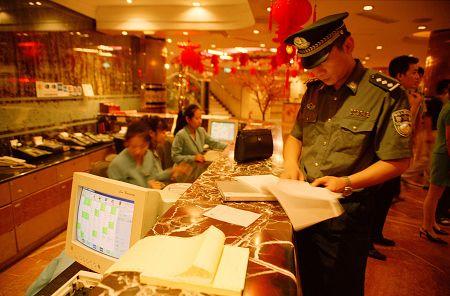 Police in Beijing inspected several clubs last month including the Passion Club
and JJ.
"I am a deputy to the People's Congress of Sichuan Province! I'm here to discuss a project, how do you expect us to continue our talk in the presence of so many policemen?" he asked , Yunnan Information Daily reported.
That scene was just one of many dramatic ones that reportedly occurred inside massage parlors, nightclubs and other entertainment venues ever since the anti-prostitution campaign kicked off across China a few months ago.
According to Shanghai-based Oriental Morning Post (OMP), as of this month, at least 26 cities have conducted such a crackdown since May resulting in the closure of hundreds of entertainment venues.
Many were arrested also.
In Foshan alone, in South China's Guangdong Province, the police handled 650 prostitution-re-lated cases and over 22,000 people were held for ties to prostitution and gambling, the newspaper said.
One of the four high-end nightclubs The Passion Club at the Great Wall Sheraton Hotel was the most publicized in the country and considered a prelude to the national crackdown.
Order from the top?
It was reported that these clubs were protected over the years for allegedly having an "umbrella."
Three months later, reports surfaced attributing the closure of these privileged clubs and of the tough campaign, mainly to a secret investigation conducted by the Committee for Comprehensive Management of Public Security, which is headed by Zhou Yongkang, secretary of the Communist Party of China Central Political and Legislative Committee.