By Lara Farrar and Li Jiabao
Beijing - Nearly a year after Tao Xiangli gained international reputation for his homemade submarine, the self-taught inventor still lives in a tiny room in a hutong in Beijing.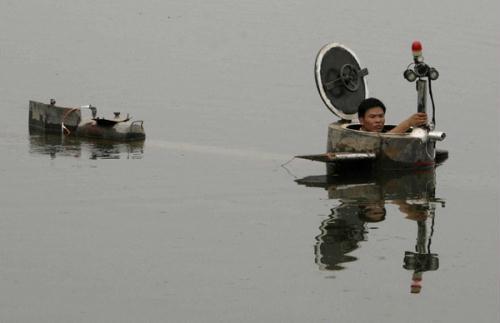 Inventor Tao Xiangli tests his homemade submarine in a lake on the outskirts of
Beijing in September last year.(CHRISTINA HU / REUTERS)
But he has a new ambition: Another invention, which is expected to see the light of day by next month.
Outside his room, situated in a narrow lane cluttered with clotheslines, plants and garbage, is where Tao began building the 6-meter subaqueous in 2009 out of old barrels, pipes and other used construction materials he found at various markets around the city.
Once complete, he trucked the submarine to a lake on the outskirts of the capital, put it in the water, and hoped it would work.
It did, actually.
And shortly after, videos of Tao floating around in the apparatus appeared online, as local and international media pounced on the story. Suddenly, Tao had become a national celebrity, joining the list of a number of other wacky Chinese inventors, who spend their lives building everything from flying machines to Mandarin-speaking robots.
The submarine was sold to Expo 2010 Shanghai, and was displayed in a recent exhibition dedicated to China's "peasant inventors".
Tao declined to disclose how much money he earned from the sale. He only said the amount was enough to allow him to focus all his energy on building new contraptions for at least another few months.
He is now working on a robot, which, once completed in September, will be able to dive underwater, climb steps, break into buildings and function as a vehicle.
Tiny parts of the "miracle machine" - screws, gears, batteries and wheels - are strewn about the tiny room he shares with his girlfriend.