FC Barcelona arrived in Seoul on Monday as part of its pre-season tour in Asia to play a friendly against the K-league all-star team on Wednesday at Seoul World Cup Stadium. Argentinean international Lionel Messi and Swedish striker Zlatan Ibrahimovic are among the 28-man squad that will spend three days in Seoul before heading to China.
"I'm a bit surprised to see so many Korean fans at the airport. I didn't expect that many and they were wearing Barcelona's uniform," said the Barcelona striker.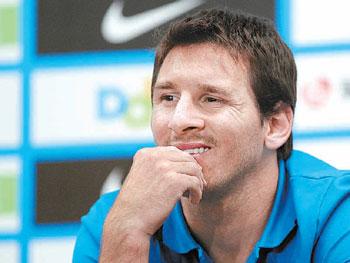 23-year-old Messi said that he expects that Wednesday's game will be a good game in
preparation for a new season.
Speaking at a press conference on Monday, the 23-year-old Messi said that he expects that Wednesday's game will be a good game in preparation for a new season.
"I feel extremely tired after a long-haul flight. But I'm sure I'll get ready for the game," he added. "I believe we're the best club in the world. We'll prove ourselves on Wednesday."
However, many of the first team regulars that helped Spain win the World Cup are not included in the squad as they are still on their extended holidays. Midfielder Andres Iniesta, who scored the winning goal over the Netherlands in the final, defender Carles Puyol, David Villa, Victor Valdes, Pedro Rodriguez, Xavi Hernandez are among those who did not make the trip.
Meanwhile, the K-league league side, led by manager Choi Kang-hee of the Jeonbuk Hyundai Motors, has six players, including goalkeeper Jung Sung-ryong of Seongnam and Jeonbuk striker Lee Dong-gook, who helped Korea advance to the second round of World Cup in South Africa.
The 51-year-old Choi admitted he feels a lot of pressure in preparing for the game against the 2009 European champions.
"The all-star game is usually fun and without much hustle. But this time it is different," Choi said in a press conference on Sunday at the Grand Hilton Seoul.
"This will be a challenging match, but it will also give us chance to prove our league's strength," said the outspoken manager, adding that the K-League, which consists of 15 teams is also competitive with the highest profile leagues in terms of the quality of players and clubs.
"We're looking forward to playing with Barcelona," said Jeju United winger Gu Ja-cheol. The 20-year-old Gu claimed he is also a fan of the Spanish giant, which usually plays a fluent and fast-paced passing game.
"I've grown up watching their play. This will be a great night for me," Gu added.
FC Barcelona, one of La Liga's most successful franchises, last visited Korea in 2004 when it played a friendly against Suwon Samsung Bluewings. At that time the mostly reserve side of the Catalan club lost 1-0 to the K-League club.
This time, however, the 2009 FIFA Player of the Year Messi will play against the K-league all-stars, along with nine other members of the first team, though the remaining players are from the reserve team.
On Tuesday, Barcelona will hold a public training session at Seoul World Cup Stadium at 8 p.m. Fans with tickets to Wednesday's game are free to access to the venue and 1,000 tickets will be available on first-come, first-served basis.
The K-league All-Star team is also planning a public training session at 6 p.m. on the same day.
The match between the two sides will take place at Seoul World Cup Stadium on Wednesday at 8 p.m.
Related stories
Editor:Jin Lin |Source: CNTV.cn