TEHRAN, Aug. 4 (Xinhua) -- Iran denies reports saying President Mahmoud Ahmadinejad was attacked on Wednesday by an explosive and said the explosion was caused by a firecracker set off by a man to hail the president's arrival, the official IRNA news agency reported.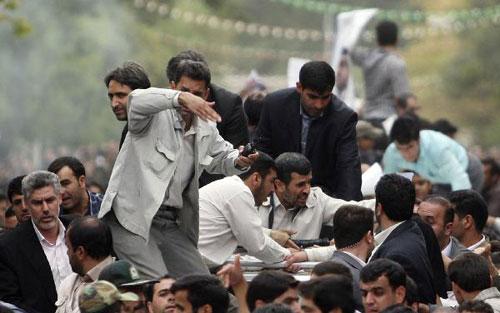 Bodyguards react after the sound of an explosion behind the entourage of Iranian
President Mahmoud Ahmadinejad (C) as he is welcomed to Hamadan, 336 kilometres
southwest of Tehran, August 4, 2010. (Xinhua/Reuters Photo)
An informed source in Iran's presidential office said the reports were false, the local English language Press TV reported. "No such attack took place," he was quoted as saying.
Several media, both home and abroad, had reported earlier that a home-made grenade exploded near Ahmadinejad's convoy when his was touring the western city of Hamedan.
Ahmadinejad was attacked when moving from the airport to the stadium of Hamedan, some 280 km southwest of Tehran, the Conservative Iranian website khabaronline.ir said, adding the president was unhurt and there were no reports on casualties.
The report said a man suspected of throwing the grenade had been detained.
The news network, Al Arabiya, reported that a number of people were injured in the blast and the attacker was arrested on the spot. Both the Al Arabiya and the Iranian website said the explosive targeted a car carrying reporters. "The car of the president was 100 meters ahead of the blast and nothing happened to him," the report said.
Later in the afternoon, a live broadcast from Iran's state TV showed the president addressing a crowd in Hamedan and saying the Islamic Republic is ready to start nuclear fuel swap talks in late August and favors dialogue with the West based on justice and mutual respect.
The Press TV said the blast was a "firecracker" and it is customary in the region to use firecrackers in welcoming ceremonies.
The official IRNA news agency said Iranian youth, during special occasions such as the New Year festivals or football matches use firecrackers as a sign of excitement.
The report accused some foreign media as fishing in troubled waters, saying they interpreted the incident as an assassination attempt and tried to make use of it.
An official at the governor's office of Hamedan province told IRNA that the explosion of the firecrackers caused no damage on people or property.
Since Ahmadinejad took office in 2005, his administration has started a series of provincial tours nationwide in to listen to the problems of local officials and people, and to develop and launch several social and economic projects for those provinces.
Related stories