BEIJING, Aug. 4 (Xinhua) -- Chinese Premier Wen Jiabao has called on authorities in a flood-ravaged province to be prepared for even more flooding and ensure residents in the flood-hit region have adequate shelter and access to daily supplies.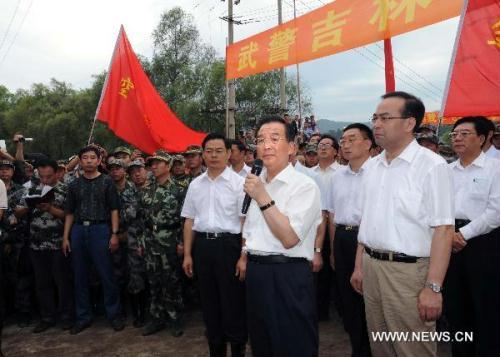 Chinese Premier Wen Jiabao (2nd R, front), who is also a member of the Standing
Committee of the Political Bureau of the Communist Party of China Central Committee,
addresses soldiers and local people in the flood-hit area in Yongji County of Jilin
City, northeast China's Jilin Province on Aug. 3, 2010. Wen Jiabao visited Jilin
Province to inspect the flood control operations on Tuesday and Wednesday.
(Xinhua/Li Tao)
"(Authorities) should spare no efforts in flood-relief work and pay special attention to the safety of dams and reservoirs," Wen said during a two-day inspection tour in Jilin Province which ended Wednesday.
Jilin province has witnessed heavy rainfalls that began July 20 and more rain is forecast. Rain-triggered floods have left 74 people dead and 71 missing in the province since July 20.
Further, torrential rains have disrupted the lives of nearly 4.6 million people in Jilin, forcing the evacuation of more than 784,000 people.
During his inspection tour, Wen visited displaced residents in temporary shelters and encouraged soldiers assisting with flood-relief work.
Upon arrival at Changchun City on Tuesday afternoon, Wen immediately headed for Yongji County, where floods had, last week, submerged buildings as high as three meters.
Sporting a pair of rain shoes, Wen trekked along the muddy road at the county seat, greeted silt-cleaning soldiers and asked medical staff to improve sanitation and hygiene measures.
He also urged soldiers to take strict precautions against more floods and protect people's lives and their property.
When visiting homeless residents relocated to a local middle school, Wen urged local authorities to restore transportation and supplies of water, gas and electricity in flood-hit area as soon as possible while ensuring that every resident be provided accommodations ahead of the coming winter.
During his visit to a local water quality monitoring station, Wen asked for comprehensive testing of water quality in the Songhua River, a major drinking source for millions in the region into which more than 7,000 chemical barrels had been carried away by rain-triggered floods.
Further, Wen called for information on water quality to be made public to dispel people's concerns.
By the end of Sunday, workers had recovered 6,387 barrels and located 684 others stuck in riverside corn fields or marshes.
Water quality tests showed the Songhua River had not been contaminated, according to officials with the Jilin provincial government.
Editor:Jin Lin |Source: Xinhua