BEIJING, Aug. 5 (Xinhuanet) -- As Beijing Olympic Games recede into the past, Shenzhen Universiade is on the sporting calendar for next year and China waits to receive word on its bid for the FIFA World Cup.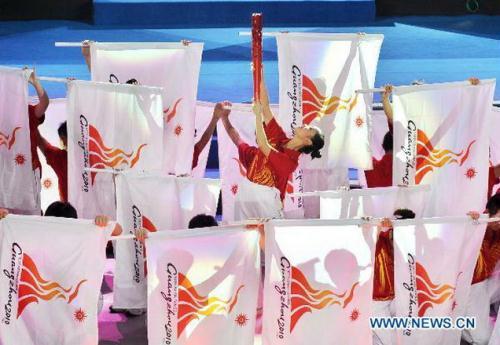 Ceremony for the 100-day countdown to 16th Asian Games in Guangzhou, south China's
Guangdong Province, Aug. 4, 2010. (Xinhua/Zhang Chen)
Meanwhile, with just 100 days to go, all eyes in China are now on the Guangzhou Asian Games.
Guangzhou is the nation's second city to host the Asian Games after Beijing in 1990. As the backdrop to the 42 events scheduled in the competition, the most in the history of the Games, the city itself will be in the spotlight.
"Whether you are old or young, women or men, you should join hand in hand and get involved in this tournament," said Huang Huahua, governor of Guangdong province, as he rallied support for the Games.
"We will be working together to host a successful event, which will combine stylistic elements of China, Guangdong and Guangzhou."
Contributing to the uniqueness of the event, the Guangzhou Asiad will include cricket, dancesport, dragon boat races, Chinese chess, weiqi and roller sports as new events.
"We have 14 special and non-Olympic events in the Asian Games," said Xu Ruisheng, executive deputy secretary general of the Guangzhou Asian Games Organizing Committee and Vice-Mayor of Guangzhou.
"The Asian Games provide an ideal platform for Guangzhou to promote itself as a city of sport."
Related stories