BEIJING, Aug. 4 (Xinhua) -- Barcelona are playing an exhibition match in Seoul with South Korea's K-league all-star team to commemorate the 60th anniversary of diplomatic normalization between Spain and South Korea.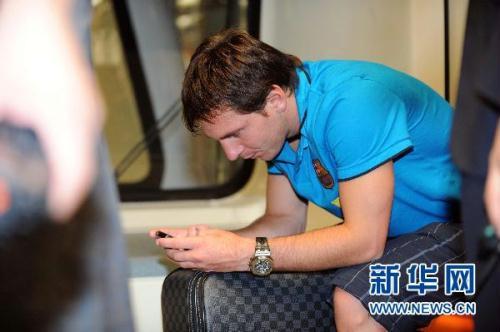 Lionel Messi arrived in Beijing early Thursday morning with Barcelona for the second
leg of the Spanish champions's preseason tour of Asia.
"Messi and Barcelona are scheduled to arrive in Beijing at 1:30 Thursday morning," organizers said.
Barcelona will play Chinese Super League champions Beijing Guo'an in China's Bird Nest national stadium at 8:00 on August 8, exactly two years after the opening of the 2008 Beijing Olympic Games.
The Bird Nest is familiar to Messi, who led Argentina to the champion at the Olympic Games.
The Spanish champions' eight World Cup winners have been rested.
The Barcelona players that helped Spain win the World Cup didn't travel to the far east. They are Carles Puyol, Victor Valdes, David Villa, Pedro Rodriguez, Xavi Hernandez, Sergio Busquets, Gerard Pique and Andres Iniesta, who scored in the 1-0 victory over the Netherlands in the final.
Barcelona coach Pep Guardiola is bringing 28 players on the tour.
"Barcelona will hold a press conference at noon on Thursday and they will have two training sessions each day on Friday and Saturday," organizers said.
Related stories