A live concert featuring veteran rock singers from the bands Tang Dynasty and Black Panther as well as singer Zheng Jun is set to rock the Workers' Stadium on August 27. Organizers of the show held an open forum for the performers Monday to share their thoughts on the development of rock music in China.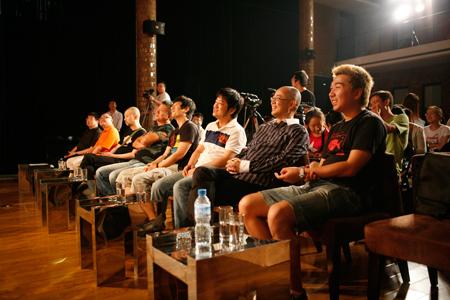 Chinese rockers spoke to members of the media Monday.
It's been more than 26 years since Chinese rock legend Cui Jian first belt-ed out his generation-defining anthem "Nothing to My Name" at the Workers' Stadium in 1984. And in the past two decades, rock performances have since been relegated to smaller and smaller venues, confined mostly to small live houses and various outdoor music festivals.
"Rock is not the only option for young people to listen to," said singer Zheng Jun, best known for his song "Back to Lhasa." "Nowadays China has a lot more pop, jazz, blues, but rock does persist. Rock is in our blood."
Zheng Jun told the Global Times that he listened to rock music at university so much that he became "obsessed." He even gave up studying overseas to devote his life to being a rock singer. When looking back on that part of his life, he said he got through all the tough times by being persistent.
"I had no job and scraped by sing-ing at nightclubs," he said. "I even slept on the sides of roads during the most difficult days. I made it because of my belief in rock. There are difficult times in everyone's life. Hold onto your dreams. That's part of the rock spirit."
Zheng is not alone in having spent years of his life struggling to make it big. "Rock can bring happiness and spiritual enjoyment," said singer He Yong, who has worked with singers Zhang Chu and Dou Wei. "We made it because we believed in ourselves, like a kind of self-fulfilling prophecy."
At one point China seemed to be overflowing with big names in rock, from Cui Jian to Tang Dynasty, but decades later these acts seemingly find themselves all alone in their genre.
"This is not good news," said singer Zhang Chu. "Not that many people are supporting rock now. People once looked to rock to relieve pressure."
"Now there are so many options for young people," he added. "Rock is no longer the only one, or the best one." He said he still hopes to meet his successors.
Editor:Jin Lin |Source: Xinhua