Wang Ye, a 27-year-old Beijinger, ordered flight tickets and hotel reservations on Thursday for her coming vacation destination - the China Danxia Landform, recently named a UNESCO World Heritage site.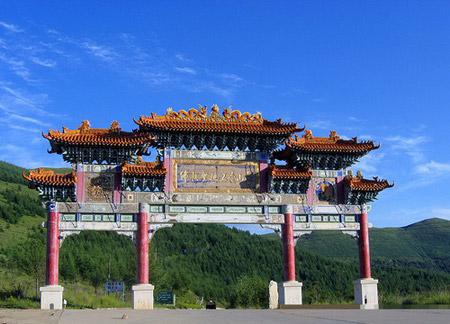 Mount Wutai is a Sacred Buddhist mountain, and a UNESCO World Heritage Site
in Shanxi Province in China.
"I moved my plans for Danxia two months ahead", she told China Daily, as "prices and the numbers of tourists might increase soon."
Indeed, in recent months, she noted, ticket prices have "skyrocketed" at other newly named UNESCO sites.
She pointed to entrance fees at Jiuzhaigou in Sichuan province, which had increased from 108 yuan ($16) to 220 yuan, as just one example.
Some say it is worth the price. "The first-class scenery deserves first-class prices," Huang Dawei, director of the management committee of Danxia Mountain, was quoted by a Guangzhou-based Information Times as saying on Thursday.
"The cost will increase regarding a series of protection actions," he added.
The ticket price for Danxia Mountain is now 100 yuan for an adult, and 120 yuan on holidays - 50 percent less than the price in some World Cultural Heritage in China, Huang said.
Huang added that discounts for local residents could be available in the future, although he declined to offer further details.
Nestled in the Songshan Mountain of Central China's Henan province, the historic architectural complex of the Shaolin Temple was also added to the UNESCO World Cultural Heritage list on Saturday.
The ticket price of Shaolin Temple, the home of Chinese kungfu and Zen Buddhism, will remain the same, according to a local official.
Shaolin Temple's abbot Shi Yongxin confirmed the news by saying the temple had no plan to raise admission fees.
"Bidding for World Heritage has nothing to do with commercial interests. We would not raise the ticket price," said Qian Daliang, general manager of the Intellectual Property and Intangible Assets Management Center of Shaolin Temple, days before the bid succeeded.
Many tourists, however, say local officials are exploiting their ability to impose increased entrance fees for their own benefit.
For example, officials in the ancient town of Lijiang in Yunnan province, named a world heritage site in 1997, put up roadblocks to ensure tourists paid a "protection" fee for visiting the popular site last year.
Since 2001, the town's protection bureau has been collecting a so-called "ancient town maintenance fee" from tourists. Still, many are finding ways to avoid producing the 80 yuan.
Editor:Yang Jie |Source: China Daily