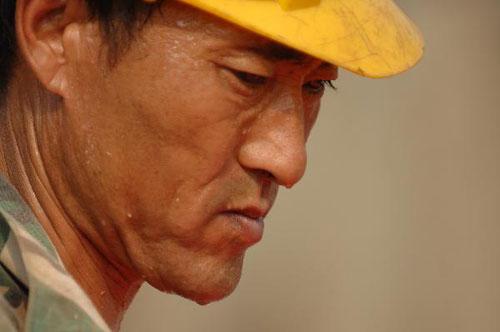 A worker works at a building site in Hangzhou, east China's Zhejiang Province,
Aug. 5, 2010. The temperature reached 35 degrees Celsius in Hangzhou on Thursday.
(Xinhua/Huang Zongzhi)
Authorities in east China Thursday ordered employers to immediately halt outdoor work when temperatures exceed 36 degrees Celsius after a spate of deaths from heatstroke.
The Shandong Provincial Housing and Urban-Rural Development Department held an emergency meeting Thursday to discuss the "sauna weather" that has killed eight outdoor workers in the province in the last week.
Employers should operate on "people first" principles and strengthen the protection for outdoor workers, officials agreed.
Department director Yang Huancai said employers who refused to suspend work when temperatures exceeded 36 degrees Celsius and caused the deaths of workers would have their work safety licenses revoked temporarily.
Housing and urban-rural development authorities were required to supervise employers to provide sun hats, towels and cooling ointment, as well as soft drinks to outdoor workers.
From July 30 to Aug. 1, at least eight outdoor workers lost their lives due to heatstroke in Jinan, capital of east China's Shandong Province.