By Igor Serebryany, Zhang Dailei
MOSCOW, Aug. 5 (Xinhua) -- Prime Minister Vladimir Putin announced Thursday that Russia would impose a temporary ban on grain exports due to hot weather and drought, driving the benchmark wheat futures to a 23-month high in global markets.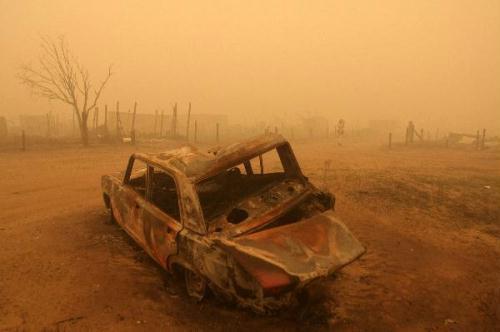 A burnt car stands at the roadside in the burnt out village of Mokhovoye,
Lukhovitsi municipal district, some 130 kilometers from Moscow, August 3, 2010.
Firefighters struggled Tuesday to contain the worst wildfires to hit Russia for
decades, as a relentless heatwave and campfires left burning by the public sparked
hundreds of new blazes.(Xinhua/AFP Photo)
Russian experts believe the ban is a hard decision for the world's leading grain exporter.
A HARD DECISION
"Due to the abnormally high temperatures and drought, I consider it feasible to impose a temporary ban on exports from Russia of grain and other farm produce made out of Russia's grain," Putin said.
He decided to offer farmers who are suffering in the disaster 35 billion rubles (about 1.17 billion U.S. dollars), ten billion rubles (335 million U.S. dollars) of which they do not need to repay while the rest will be transfered as a three-year privileged credit.
"Of course, we are interested in earning money from grain sales but now the priority task is to support the producers," Putin said.
The government on Wednesday decided to postpone grain interventions on the market previously planned on Aug. 4, before fresh data on the regions' needs came out.
Related stories