JERUSALEM, Aug. 5 (Xinhua) -- Israel on Thursday released three Turkish vessels, who have witnessed a bloody highsea showdown between Israeli navy soldiers and pro-Palestinian activists in May.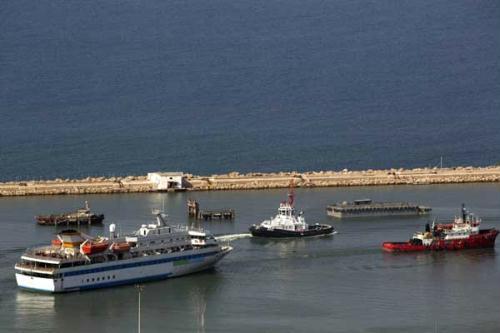 The Mavi Marmara ship, aboard which Israel's deadly raid on a Gaza-bound flotilla
took place on May 31, 2010, leaves the Haifa port, northern Israel, on its way to
Turkey, Thursday, Aug. 5, 2010.(Xinhua/AFP Photo)
"In the wake of a decision by the political leadership and pursuant to a request by the Turkish authorities, the Defense Ministry will today hand over, to Turkish representatives, the Turkish vessels," said a statement send to Xinhua.
On May 31, Israeli naval commandos boarded the ships of a Gaza- bound flotilla, in order to keep it from breaking the maritime blockade on the Hamas-run coastal enclave. Nine activists were killed in the melee. Dozens of other passengers were also wounded, as were seven Israeli soldiers.
The ships have been anchored in Israeli ports since then.
Mavi Mamara, stage of the deadly clash, is among the three vessels that left northern Israel's Haifa Port on Thursday afternoon.
Along with the ships, Israeli Foreign Ministry sent a message to Turkey, telling it to "prevent other Turkish vessels from violating the naval blockade on the Gaza Strip."
Related stories