MOSCOW, Aug. 6 (Xinhua) -- Heavy smoke caused by forest and peat fires in the Moscow region has shrouded Moscow airports, delaying dozens of flights, Russian media reported Friday.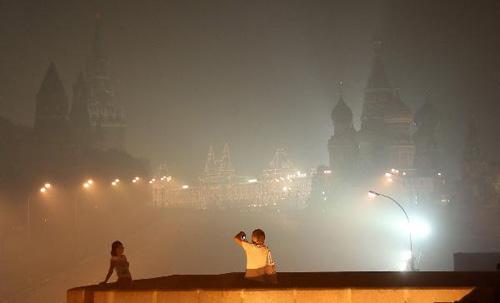 A couple visit the Red Square among thick smog in Moscow, capital of Russia, Aug.
4, 2010. Moscow suffered serious air pollution due to the forest and peat fires.
(Xinhua/Lu Jinbo)
The worst affected is Domodedovo airport, where visibility down to 400m forced 16 flights to be cancelled and another 43 arrivals or departures to be delayed. Six flights were forced to land at other airports.
Seven departures and 14 arrivals have been delayed at Vnukovo airport.
Sheremetyevo airport was working without delays till Friday noon, but visibility was deteriorating due to smog, Sheremetyevo spokesman Roman Genis told Interfax.
"The situation is becoming more complicated, but we are observing the schedule," he said, adding that visibility was 1,500-1,700 meters in the morning but had since deteriorated to 500-600 meters.
The dense smoke caused by peat bog fires has been covering central Russia for the past three weeks.
The smoke affected road traffic and railway schedules as well. Train staff were instructed to turn on signals on approaching crossings and stations to help slow the speed.
Russian media reported air pollution was at least three times worse than normal. Experts warn the pollution could make breathing as dangerous as smoking.
Russia's sanitary chief, Gennady Onishenko, suggested Muscovites leave the capital for several days due to the toxic smoke and ongoing heat.
The temperature was expected to exceed 40 degrees Celsius in Moscow on Friday. Meteorologists claim storms could be possible. Russians have been waiting for rains since mid-June. Heavy rains have proved the only weapon against fire smoke.