SAN FRANCISCO, Aug. 6 (Xinhua) -- Hewlett-Packard Co. announced Friday that the company's Chairman, Chief Executive Officer and President Mark Hurd had decided to resign his positions on allegations of sexual misconduct.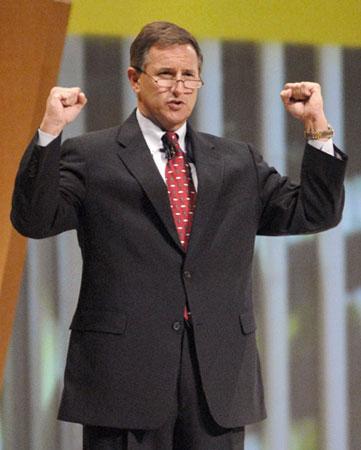 Mark Hurd, chief executive officer and president of HP,
delivers his keynote presentation during the HP Technology
Forum at the George R. Brown convention center in Houston
September 18, 2006. (Xinhua/Reuters file photo)
"Hurd's decision was made following an investigation by outside legal counsel and the General Counsel's Office, overseen by the Board, of the facts and circumstances surrounding a claim of sexual harassment against Hurd and HP by a former contractor to HP, " the company said in a press release.
It added that the investigation determined there was no violation of HP's sexual harassment policy, but did find violations of HP's Standards of Business Conduct.
"This is a painful decision for me to make after five years at HP, but I believe it would be difficult for me to continue as an effective leader at HP and I believe this is the only decision the board and I could make at this time,"said Hurd in the announcement.
The HP board had named the current Chief Financial Officer Cathie Lesjak, 51, as CEO on an interim basis. Lesjak has taken herself out of consideration as the permanent CEO but will serve as interim CEO until a new CEO is selected, the company said.
Hurd, 53, succeeded CFO Robert Wayman, who served as interim CEO from Feb. 10, 2005 to March 28, 2005 after former CEO Carly Fiorina stepped down.
Editor:Zhang Pengfei |Source: Xinhua