HEINOLA, Aug. 7 (Xinhua) -- A Russian competitor has died in Sauna world championship held in Heinola, southern Finland city on Saturday, another Finnish competitor has been sent to hospital for more treatment.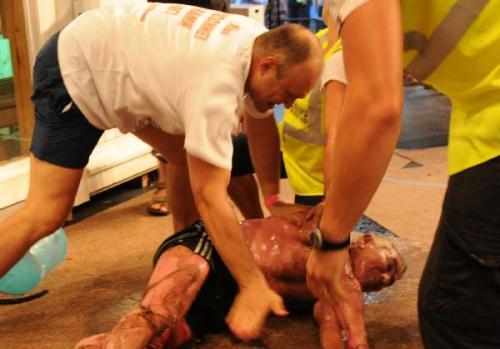 The Russian competitor Vladimir Ladyzhenskiy becomes unconscious when the competition
lasted for six minutes, August. 7, 2010. (Xinhua Photo)
When the men's final competition began on Saturday evening, the temperature in the sauna room has reached 110 degrees Celsius. The Russian competitor Vladimir Ladyzhenskiy and the Finnish competitor Timo Kaukonen became unconscious when the competition has lasted for six minutes. The staff immediately took them out of the sauna room and gave first aid treatment on them.
However, the Russian man, who is over 60 years old, died on the spot and the Finnish man, who is about 40-year-old, is now receiving medical treatment for severe scald in a hospital in Lahti in southern Finland.
Ossi Arvela, the director of the competition organization told Finnish media that the judges and firs-aid personnel have been followed the competition through the window of the sauna room.
The competition has been suspended immediately when they found that the situation has exceeded the limits of men's health.
According to an announcement by the competition organization released Saturday evening, all the rules were followed during the competition and there were enough first aid personnel at place. All the competitors needed to sign in to the competition with doctor's certificate.
According to Finnish media's report, Arvela did not believe the event will be held in the future.
Finnish police is investigating the events with the competition organization.
The Sauna world championships has been held in Heinola annually since 1999, and this year's event drew over 140 contestants from 15 countries.