BEIJING, Aug. 8 (Xinhuanet) -- Hewlett-Packard Co has ousted its CEO for allegedly falsifying documents to conceal a relationship with a former contractor and help her get paid for work she didn't do.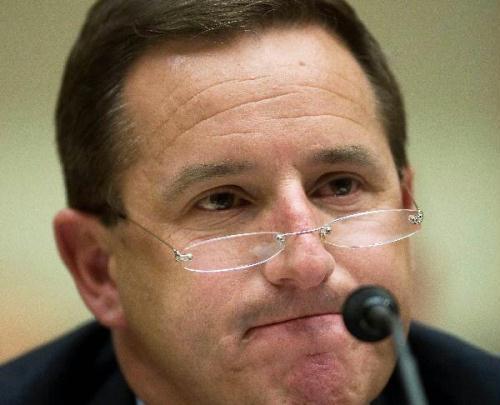 File photo of Mark Hurd, chairman, CEO and president of HP (Xinhua/AFP Photo)
News of Mark Hurd's abrupt departure on Friday sent HP's stock tumbling. Shares of the world's biggest maker of personal computers and printers have doubled in value during his five-year stewardship, and HP became the world's No. 1 technology company by revenue in that time.
The company said it learned about the relationship several weeks ago, when the woman, who did marketing work for HP, sent a letter accusing Hurd, 53, and the company of sexual harassment. An investigation found that Hurd falsified expense reports and other financial documents to conceal the relationship. The company said it found that its sexual harassment policy wasn't violated but that its standards of business conduct were.
Hurd's "systematic pattern" of submitting falsified financial reports to hide the relationship convinced the board that "it would be impossible for him to be an effective leader moving forward and that he had to step down," HP General Counsel Michael Holston said on a conference call on Friday with analysts.
"The facts that drove the decision for the company had to with integrity, had to do with credibility, had to do with honesty," Holston said, declining to elaborate.
Holston said the inaccurate financial reports related only to Hurd's personal expenses.
Hurd acknowledged there were "instances in which I did not live up to the standards and principles of trust, respect and integrity that I have espoused at HP."
Hurd, who is married with two children, will get a US$12.2 million severance payment and nearly 350,000 shares of HP stock worth about US$16 million at Friday's closing price. The company also extended the deadline for options to buy up to 775,000 HP shares.
Los Angeles attorney Gloria Allred said she is representing the woman and "there was no affair and no intimate sexual relationship" between her client and Hurd.
A person with knowledge of the case told the AP that the woman worked as a host for more than a dozen events for CEOs that Hurd attended between 2007 and 2009. The person said the disputed expenses range from US$1,000 to US$20,000 each for travel, lodging and meals.
This person, who requested anonymity because this person wasn't authorized to speak publicly about the case, said many of the expenses were for meals after the events and that Hurd insists they were legitimate business expenses.
The company's chief financial officer, Cathie Lesjak, 51, was named interim CEO. She has been with the company 24 years but does not want to fill the position permanently.
Editor:Zhang Ning |Source: Xinhua