HAVANA, Aug. 7 (Xinhua) -- Former Cuban leader Fidel Castro on Saturday urged U.S. President Barack Obama not to order an attack on Iran.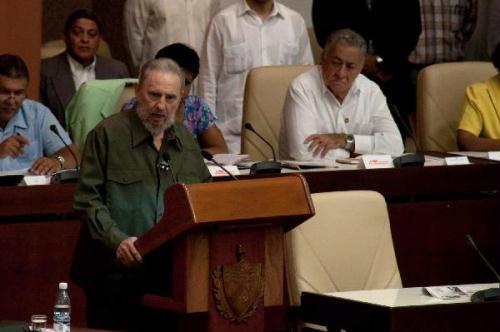 Former Cuban leader Fidel Castro addresses a meeting of the National Assembly in Havana,
Cuba, August 7, 2010. Fidel Castro delivered a speech on the Iranian nuclear issue before
Cuba's parliament Saturday, his first official government appearance in four years.
(Xinhua/Wang Pei)
Castro made the remarks at a special session of the Cuban parliament discussing the "main threats to mankind."
"Leaders of the world's most powerful countries -- allies or adversaries, with the exception of Israel -- would agree with me and urge President Obama to avoid the aggression," said Castro.
If President Obama gives the order, "he would be ordering the immediate deaths of hundreds of millions of people, including an untold number of people in his homeland and the crews of all the U.S. fleet in the waters around Iran," Castro said.
"Simultaneously the war would break out in the near and the far East and throughout Eurasia," he said, warning that the present world order established on the planet would collapse.
The former leader, who turns 84 on Aug. 13, stood with his brother Raul, the current Cuban leader, in his traditional olive green uniform but without military insignias.
Castro received a standing ovation by more than 600 deputies when he was addressing the session. Foreign media were allowed to cover the meeting.
Castro said that only Obama can avert such a disaster. "Only one man will have to make this decision: the president of the United States."
"Despite everything, I realized there is hope, very small indeed. But if mankind loses this chance to avoid the disaster, the human race would have no possible salvation," Castro added.
This was the first time Castro attended a parliament meeting since he handed over power to his brother Raul Castro in 2006 for health reasons. He re-entered public life a month ago, meeting the Chinese foreign minister as well as artists and American peace activists.
Related stories
Editor:Jin Lin |Source: Xinhua