ZHOUQU, Gansu, Aug. 9 (Xinhua) -- Rescuers searching for survivors in a mudslide-flattened northwest China county were spurred on Monday when a 74-year-old woman was pulled alive from the debris and rubble.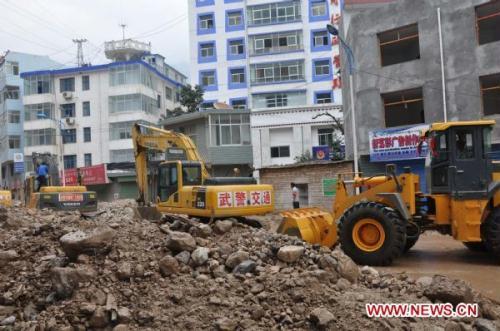 Excavators work at the rush repair site of a road in Zhouqu County of Gannan
Tibetan Autonomous Prefecture, northwest China's Gansu Province, Aug. 9, 2010.
Some 100 soldiers and more than 30 engineering equipments were sent to take
part in the rush repair work of roads damaged by rain-triggered landslides
in Zhouqu County.(Xinhua/Pi Feng)
The woman, named Yang Jinfeng, was rescued at 9:50 a.m. from a half-destroyed building in the county seat of Zhouqu, Gannan Tibetan Autonomous Prefecture in Gansu Province, 34 hours after a massive mudslide swept through the county, a spokesman with the emergency rescue headquarters said.
The woman's fourth-floor apartment was flooded with sludge and water and police officers had to smash a hole in the wall to help her out of the darkened space, he said.
A China Central Television report showed her being carried out on a stretcher, her eyes covered to avoid the daylight.
The spokesman said the woman was in a stable condition and able to talk. "But she was very weak from hunger and thirst."
She received first aid at the scene before being rushed to hospital.
In the worst-hit village of Yueyuan -- Chinese for "Full Moon Village" -- not a single structure remained intact. Thousands of police and People's Liberation Army (PLA) officers are still searching the debris for signs of life.
Forty rescuers from the Chengdu fire brigade, in the neighboring Sichuan Province, veterans of the 2008 Wenchuan earthquake rescue operation, arrived at Zhouqu Monday afternoon with 11 life detectors and three sniffer dogs.
"We've found signs of life in the rubble near a temple," said Liu Junfeng, chief of staff of the Chengdu brigade. "It came from about two meters under the ruins."
Liu and his colleagues had stepped up the searching to within 4 square meters.
Related stories