"A two-day journey, 4,064 kilometers, passing through Tanggula mountain pass and 5,072 meters above sea level -- this railway trip is bound to be extraordinary," said He Xiaoming, conductor of the T27 train from Beijing to Lhasa that departed last Wednesday.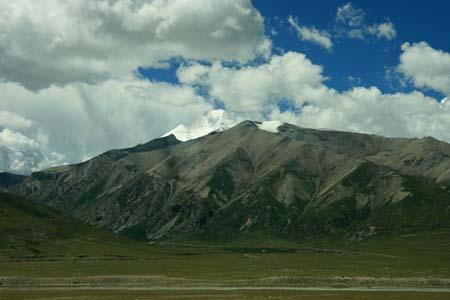 Scenery outside the T27 train from Beijing to Lhasa. Aug. 6, 2010. [CnDG by
Jiao Meng]
The passengers: Fulfilling a dream
Yang Simiao, junior in college in Beijing: "I have planned my trip to Tibet for almost three years. And finally, I got permission from my parents last month. Actually, I lied to them that I had a classmate to come with me. The truth is I'm alone, and I have sold anther train ticket online."
Zhang Zhenzhen, white-collar worker who bought Yang's ticket: "I just quit my job recently and I want a period of time to relax and find my way," she said.
Pirjo Vauevainen, a tourist from Finland: "This is my first time to visit China. I once saw a German document film about Potala Palace, and I was deeply attracted by this mysterious city. And finally, I could fulfill my dream!"
He said there were 37 foreign passengers on board, sharing the same destination -- Lhasa.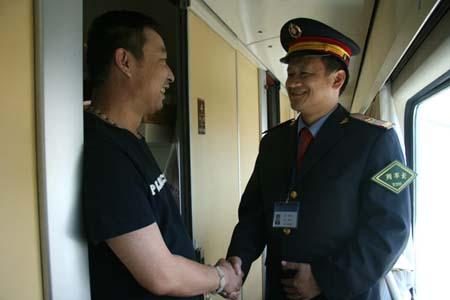 T27 Conductor He Xiaoming receives comments on train services from a
passenger. [CnDG by Jiao Meng]
Eco trip highlighted
"Multiple measures have been taken to prevent any possible pollution and damage to this frail ecosystem," He said.
The train's garbage is collected and delivered to garbage disposal plants at certain stations. Human waste is gathered into a container and sucked out by special vehicles at stops.
To avoid soil and water loss, workers from Qinghai-Tibet Railway Co, Ltd., built cement barriers and stone blocks along the railway.
"It turns out that this railway project does not harm the environment at all," He said. "Instead, vegetation nearby railway line grows better than before."
Editor:Yang Jie |Source: China.org.cn