WASHINGTON, Aug. 9 (Xinhua) -- U.S. Defense Secretary Robert Gates on Monday said he recommended the dismantling of Joint Forces Command in a major defense spending cut plan.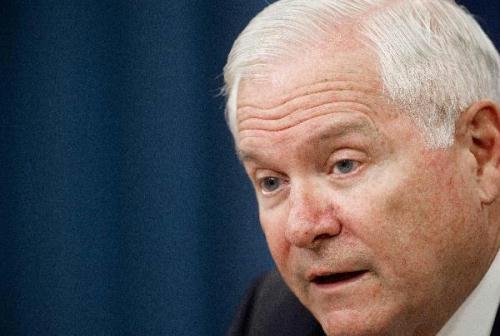 Secretary of Defense Robert Gates announces a plan to close a Joint Forces Command in
Norfolk, Virginia, as part of his effort to strip billions from the Pentagon budget.
Gates moved to slash a "top-heavy" military hierarchy Monday, announcing plans
to eliminate at least 50 posts for generals and admirals, close a major command
and cut back on the use of contractors. (Xinhua/AFP Photo)
Gates announced the plan at a Pentagon briefing. He said the command is the arbiter and proponent for joint training, doctrine and operations in the military, but it means an extra layer in the bureaucracy. It is expected to take about a year to dismantle it.
He also eliminates the offices of the assistant secretary of defense for network integration and the Joint Staff's section for command, control, communications, and computer systems, as well as the Business Transformation Agency, which is staffed with 360 people and has a budget of 340 million dollars. The offices will transfer their responsibilities to other offices.
"The services are evaluating their programs and activities to identify what remains a critical priority and what is no longer affordable," Gates said. "They are all planning to eliminate headquarters that are no longer needed and reduce the size of the staffs that remain."
Ray Odierno, currently commander of U.S. forces in Iraq, was tapped to lead the Joint Forces Command, after its former head James Mattis was named last month to replace David Petraeus as head of U.S. Central Command. Petraeus went to lead the U.S. troops in Afghanistan.
Gates said Odierno's appointment to the command won't change, and his task is to eliminate the command. Gates said Odierno supports the decision to dismantle the command, and he promised to find the general a "better job" after the task is completed.
Related stories
Editor:Jin Lin |Source: Xinhua