BEIJING, Aug. 10 (Xinhuanet) -- No hot dances, no fancy costumes, and no crazy fans. But, as every tune sounds, and every song finishes, the audience responds with thunderous applause for his singing. This was the scene at "A legend of a poetic musician - Li Jian's Guangzhou Concert" on Saturday, August 7.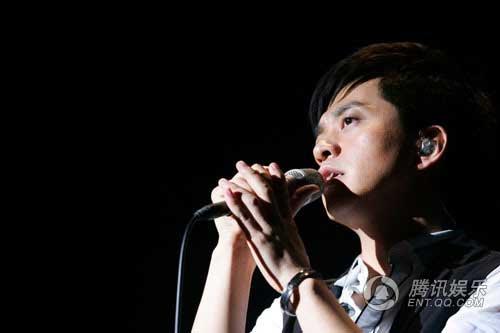 Li Jian performs in his Guangzhou concert on August 7, 2010. One of his biggest fans,
actress Yao Chen took a break from the set of her new film to attend the show.
(Photo: qq.com/CFP)
Due to his romantic melodies and lyrics, songwriter Li is regarded as the "Music Poet". Without too many words, Li sat in the center of the stage, holding his guitar. Instead, he communicated with his listeners through his musical works. After performing his first two songs, he addressed his fans in gratitude. "Today, it is a small-scale concert, but I put deep feeling in it", Li said. "It is not easy for my fans because I only record one album in two years."
The concert was held in the 1500-seat Guangzhou Xinghai Concert Hall, which was sold out for the evening. His fans, actress Yao Chen and model-actress Jessey Meng also attended the show. "His clear voice should be heard by more people", Meng said.
Hit song "Chuan Qi" (Legend) has become popular since pop diva Faye Wong sang it at the 2010 Spring Festival Evening Gala. As it was performed by songwriter Li Jian himself, actress Yao believed that Li was able to express the feeling of the song better than Wong.
According to QQ.com, Li will hold "Legend - Poetic Musician Li Jian's Beijing Concert" on September 10. Tickets are already on sale.
Editor:Liu Fang |Source: CRI