BEIJING, Aug.9 (Xinhua) -- Chinese Vice Premier Wang Qishan Monday pledged to further relations with the United States, stressing the importance of mutual understanding.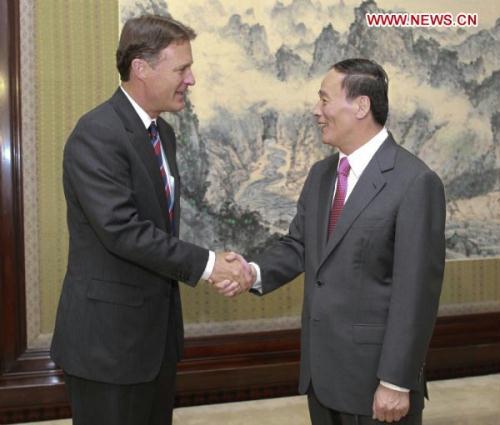 Chinese Vice Premier Wang Qishan (R) meets with U.S. Senator Evan Bayh in Beijing,
capital of China, Aug. 9, 2010. (Xinhua/Xie Huanchi)
During his meeting with U.S. Senator Evan Bayh, Wang said China is a fast-growing developing country that will "unswervingly push forward the reform and opening-up process."
Given their differences in history, culture and development stage, China and the United States should strengthen communication and understanding, Wang told Bayh, a Democrat from Indiana.
"Knowledge is the pre-condition for the understanding that promotes mutual trust," Wang said.
Expressing appreciation for China's efforts to overcome the international financial crisis, Bayh highlighted the importance of U.S.-China ties and proposed the two countries boost cooperation.
Editor:Jin Lin |Source: Xinhua