BEIJING, Aug. 10 (Xinhuanet) -- The avalanche of mud, dirt and debris that engulfed the city of Zhouqu on Saturday also buried its survivors in an inescapable sorrow.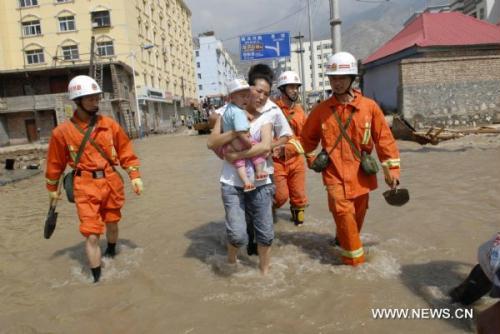 Firefighters evacuate residents to a safe place in landslides-hit Zhouqu County,
Gannan Tibetan Autonomous Prefecture in northwest China's Gansu Province, Aug. 9,
2010. Recuers have saved 77 people from rain-triggered landslides in Zhouqu County
as of 11 a.m. local time (0300 GMT) Aug. 9. (Xinhua/Hou Jun)
In the pre-dawn hours, a clutch of survivors huddled besides what little remained of their homes, wailing relentlessly over the fates of their children, parents, brothers and sisters.
Pants rolled up, we stepped gingerly out of our cross-country vehicle, which served as an ad-hoc shelter, and onto an equally makeshift floating bridge of planks and branches, toward cries that grew louder and more agonizing with each and every step.
The tragedy struck when mudslides ripped through the streets and homes in Zhouqu county, carrying with them countless rocks - many the size of soccer balls.
The deadly onslaught leveled an entire residential district in the downtown area, leaving in its wake a wasteland with many houses cut in two.
About half of the houses were flattened completely, while the others - after being covered during the onslaught - were practically skeletal.
Sitting atop the relics, survivors sobbed uncontrollably in front of reporters as well as the soldiers and villagers who came to their rescue.
Calling out the names of their beloved ones, they spoke tearfully to the heavens, and to Buddha.
Their religious hopes were honored by a group of Tibetan elders who performed a traditional folk song to pray for the safety of family members.
Related stories