ZHOUQU, Gansu, Aug. 10 (Xinhua) -- It was probably the last conversation Wang Xinlu had with his 8-year-old son -- and it will haunt him for life.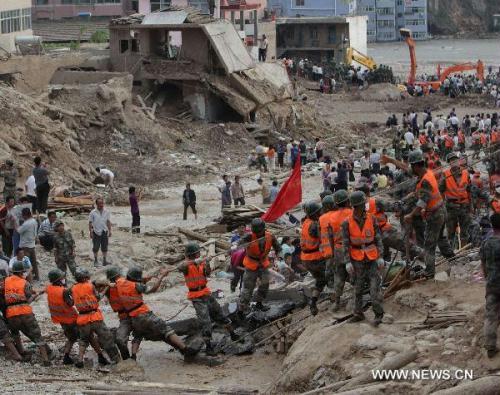 Rescuers work in the landslide-hit Zhouqu County, Gannan Tibetan Autonomous
Prefecture in northwest China's Gansu Province, Aug. 9, 2010. The death toll
from rain-triggered mudslides in Zhouqu County has risen to 337, with 1,148
others still missing, official sources said Monday night. Rescuers are racing
against time in search for survivors in the mudslide-flattened Zhouqu.
(Xinhua/Xing Guangli)
"It was raining hard Saturday night. He said he was scared and wanted to sleep with me. But I angrily told him to go back to his room."
A few hours later, waves of sludge and mud uprooted their house. "When I woke up I was drenched in the flood waters and my son was nowhere to be seen."
For two days, Wang has been digging with his bare hands at the rubble where their home used to be in Zhouqu County, northwest China's Gansu Province.
On Tuesday, with seven of his fingernails gone, he turned down a doctor's offer to bandage his wounds and refused to stop digging.
"He means everything to me," said the single father.
More than 50 hours after the disaster, rescuers believe survival would be a miracle.
More than 7,000 troops continued to battle through sludge and rubble Tuesday in a round-the-clock operation to find survivors, two days after the mudslide that leveled the county.
Related stories