MOSCOW, Aug. 10 (Xinhua) -- Russian Prime Minister Vladimir Putin took to the skies Tuesday to help fight wild fires in the Ryazan region, the RIA Novosti news agency reported.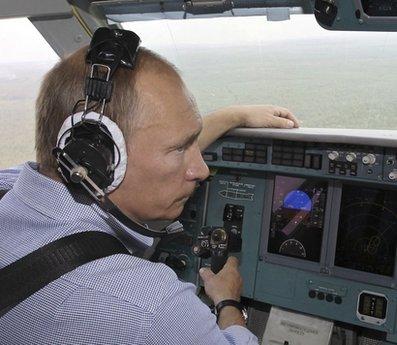 Russian Prime Minister Vladimir Putin sits in the co-pilot's seat at a cockpit of an
Emergencies Ministry's Beriev Be-200 amphibian multirole jet flying drop water over a
forest fires in Ryazan region, some 180 km (111 miles) southeast of Moscow , Tuesday,
Aug. 10, 2010.
Putin for 30 minutes co-piloted a Be-200 amphibious airplane, scooping up water from the nearby Oka River and dumping it on raging forest fires about 200 km southeast of Moscow.
The prime minister dropped approximately 12 tons of water on each of two fires, extinguishing both, the news agency said.
Putin initially sat in the cabin in front of a thermal imaging monitor together with Emergency Situations Minister Sergei Shoigu and Ryazan Governor Oleg Kovalev. However, shortly after takeoff, Putin entered the cockpit and sat in the co-pilot's seat.
Putin also spotted a fresh steppe fire in dangerous proximity to two villages.
Kovalev immediately issued instructions to local authorities to take measures to extinguish the fire.
For the first time since last week, patches of blue sky were visible in Moscow on Tuesday, although dozens of fires were continuing to rage outside the city and a total of 554 fires were still burning across the country.
Related stories