BEIJING, Aug. 11 (Xinhuanet) -- Xi'an, which was frequently praised by ancient Chinese poets, with its scenery appearing in one-third of Tang Dynasty poems, remains as popular today.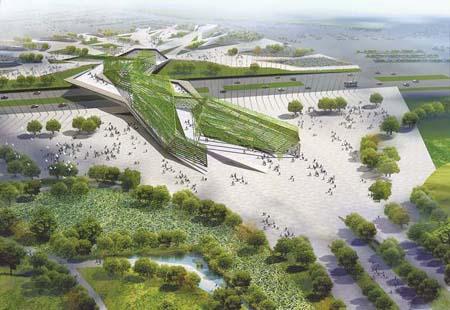 The main gate of the Xi'an Expo
Capital of 13 Chinese dynasties and known for its terracotta warriors and beautiful landscape, it ranked first in China's top 10 happiest cities in 2009.
History
The city of Xi'an was established more than 3,100 years ago, and has served as the capital in 13 Chinese dynasties including the Zhou, Qin, Han and Tang for more than 1,100 years, the longest in Chinese history for a city to serve as the capital.
Huangdi, a sage, unified the ancient tribes and founded the original Chinese nation in Xi'an. His mausoleum is now preserved in the city, attracting millions of Chinese visitors each year.
Qin Shihuang, the first emperor of the Qin Dynasty, established China's first centralized feudal government in the city, and spent 10 years building the Great Wall.
In a historical account of the period 109-91 BC by Sima Qian, the city was named the "Golden City" and the "Land of Abundance."
In ancient China the city attracted scholars and poets, and now it preserves the country's largest stone-book library (writing on stone tablets), called the "Forest of Steles".
The ancient walls in Xi'an are the country's longest and best preserved. Its Bell and Drum Towers, Giant Wild Goose Pagoda and Famen Temple are pleasant scenic spots for visitors from around the world to enjoy. Its folk arts, folk dances, paintings and drama all add charm to the city.