BEIJING, Aug. 11 (Xinhuanet) -- Nearly 3,000 employees from some 50 enterprises in the city were mobilized in Taimiao, an ancient temple square, on Tuesday, to promote the resumption of radio calisthenics, the daily fitness broadcasts that were suspended three years ago due to Olympic Games programming.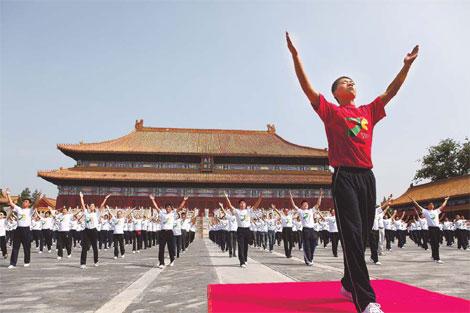 Thousands of workers exercise in front of the Imperial Ancestral Temple on Tuesday.
(Photo: China Daily)
The first set of exercises was originally broadcast 59 years ago. The latest eight-minute radio exercises were broadcast on Monday at 10 am and 3 pm.
Enthusiastically followed during the 1950s and early 1960s, the exercises gradually lost popularity.
However, if a plan proposed by the Beijing Federation of Trade Unions is adopted, the exercises will become compulsory for all employees in State-owned enterprises in the city by 2011. In addition, 70 percent of civil servants and at least 60 percent of all employees citywide will be expected to practise the daily exercises.
The plan is part of a 10-year action plan Beijing laid out last year to improve the health of its citizens, Yu Junsheng, vice-chairman of the Beijing Federation of Trade Unions, told METRO on Tuesday.
"The radio gymnastic exercises can help people acquire a healthy body. Any exercise done by an individual can be tedious and boring. To do exercise with other people makes the atmosphere more lively, and employees can take the opportunity to talk to each other.
"Through collective activity, people feel more relaxed and have greater efficiency at work. That's why we want to resume the fitness activity."
Often, management pays little attention to employees' health, and have little knowledge of the benefits that work-break exercises offer employees, Yu said.
To effectively carry out the fitness campaign, Yu said regular checkups would be set up to monitor the exercise-promotion work done by trade unions with citywide enterprises.
That would also be part of their work assessment at the end of the year.
In the first half of this year, 1,000 exercise instructors were trained to teach employees how to do the revived radio broadcast exercises in a standard way, 4,000 more trainers will join companies in the latter half of this year to help them better promote the work-break exercise, according to officials.
Yan Tao, a 24-year-old man working for China Everbright Bank, said that doing the radio calisthenics would contribute to his health and have no adverse effects on his regular work.
"It was a little bit weird at first when I was asked to do radio exercises during work time, since I thought that such exercises were especially designed for students. But having done the exercises, I feel they are a sort of relaxation period during my work."
Sun Xiren, 73, once an airplane repairman with Air China, said although retired, he kept doing the radio exercise everyday at an art troupe.
"The exercises do benefit our health, both mentally and physically." Radio calisthenics were introduced in China in 1951 to develop mass physical fitness. They were updated every five to 10 years and the current set is the eighth version.
Guangzhou city in southern Guangdong province, where the Asian Games will be held in November, will follow Beijing's lead soon, local media reported.
Editor:Jin Lin |Source: Xinhua