ZHOUQU, Gansu, Aug. 11 (Xinhua) -- Rescuers were busy searching a possible survivor in a damaged building Wednesday night after they were told cries for help were heard from the building in a mudslide-hit town in northwest China.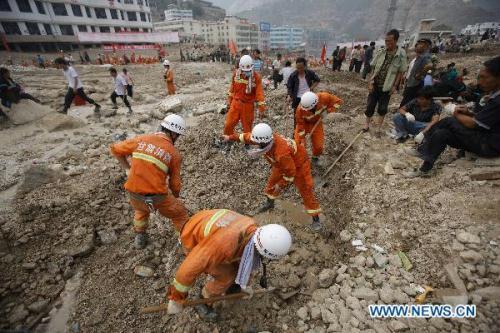 Rescuers work in Zhouqu County, Gannan Tibetan Autonomous Prefecture in northwest
China's Gansu Province, Aug. 11, 2010. The death toll in the massive mudslide in
Zhouqu has risen to 1,117, with 627 still missing, local authorities said Wednesday.
(Xinhua/Cai Guozhong)
Zhang Guiquan, an army officer, told Xinhua some residents of Zhouqu County of Gansu Province heard cries from the partially-collapsed building near the Bailong River that overflowed after being blocked by mudslides.
About 40 soldiers braving heavy rains and potential mudslides were detecting signs of life near the building after receiving the report from the residents, Zhang said.
Hopes of finding any survivors faded as the thunderstorms battered the county seat of Zhouqu Wednesday night, nearly four days after the mudslides hit the town, leaving 1,117 people dead and 627 missing.