LANZHOU, Aug. 13 (Xinhua) -- The death toll from a new round of floods and landslides triggered by torrential rains in west China has risen to 29, with 24 missing and thousands trapped, local authorities said Friday.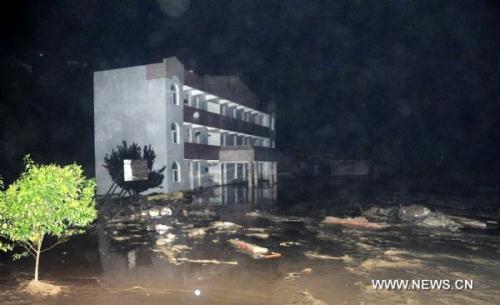 The photo taken late Aug. 12, 2010 shows a school submerged by flood at Jiuguan
Village of Wenxian County, northwest China's Gansu Province.(Xinhua/Liu Eryin)
The casualties come after mudslides devastated Zhouqu County in Gansu less than a week ago, leaving more than a thousand dead.
Downpours pounded some areas of Gansu, Sichuan and Shaanxi provinces from Wednesday night to Thursday night, destroying homes, inundating croplands, and disrupting traffic and telecommunications.
In Longnan, Gansu, the death toll rose from 10 to 20, with 16 missing as of Friday noon, according to the latest information from the Longnan municipal government.
A total of 3,012 people were still trapped by floodwaters while 10,556 have been evacuated to safe areas, the government said.
Local authorities are evacuating residents and have dispatched tents, instant noodles, bottled water, quilts and pans to the disaster-hit areas, the government said.
Related stories