A hundred orphans whose parents died from AIDS visited the World Expo yesterday.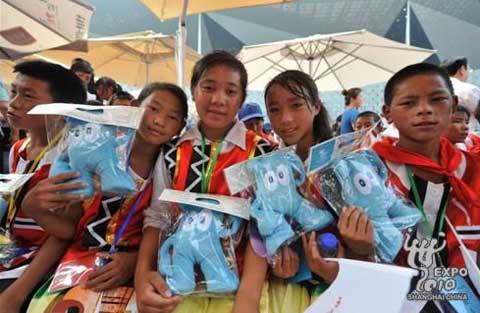 A hundred orphans whose parents died from AIDS visit the World Expo.
Most of the orphans were from the AIDS villages of Sichuan and Henan provinces, where there parents were infected at illegal blood stations.
The children were invited to visit the China, Italy and Netherlands pavilions and have lunch at the World Trade Center Association pavilions. They were also given several gifts.
A Re, 13, a Yi ethnic minority girl from Sichuan who lives with her grandmother, was given a tape recorder by the Expo organizer. She said it will help a lot with her English.
The children looked really happy while touring the Expo, but they still face difficulties in life.
Xu Jie, deputy secretary of the China Red Ribbon Foundation, a non-government organization helping AIDS orphans, said the children face discrimination from society and are mentally scarred due to the death of their parents.
She said a travel agency requested that the foundation show the kids' health certificates before arranging the Expo tour. Xu added that other visitors to the Expo did not need to do so.
The children were all healthy as many of their parents got AIDS after the kids were born, Xu said.
China has more than 100,000 AIDS orphans. Most of them live in poor rural areas where parents sold blood regularly to make ends meet. The parents got AIDS at illegal blood stations.
Most of the 100 children live together in children's welfare homes built by the foundation. Others live with their grandparents or other relatives. The foundation and local governments provide funds for them to attend school.
They receive a 200 yuan (US$29.47) allowance each month, which Xu said is enough for their daily lives.
She said discrimination and psychological problems were the real difficulties.
The children see a psychiatrist every week.
Xu said many of the children seldom talk to others when they come to the welfare homes, but that they are improving slowly.
The foundation will help the children go to senior high schools and universities and even find jobs for them.
She said many companies have supported the foundation.
Editor:Zhang Pengfei |Source: expo2010.cn